Chiltern Motor Museum
This collection of automobilia includes over 70 hand operated petrol pumps, signs, bottles and racks, auto cycles, oil engines, tins, etc. The vehicles include a 1913 Metz car and a 1928 Chev truck. The museum building is classified by the National Trust.
Address:
13-17 Conness Street, Chiltern, VIC
Hours:
8am-5.30pm weekdays, 8am-1pm Sat, 10am-1pm Sun, also by appointment
Collection:
Estimated 600 items, including a petrol pump collection of 100 pumps
Items
Petrol Pumps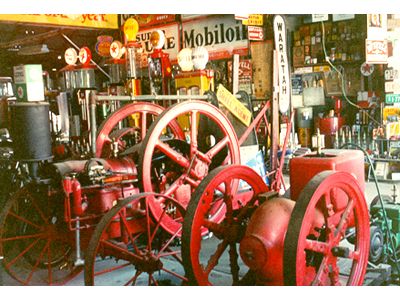 Description:
From left, ERL, ESKAY, EMCO, Woodward, Hawke, G&B, ERL electric.
Oil Engines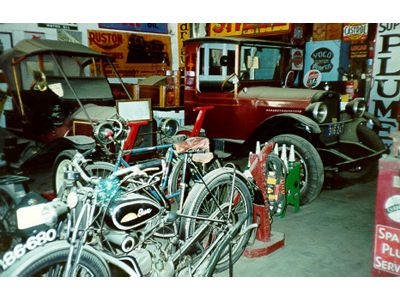 Vintage Cars
Description:
Left 1913 American Metz and Chevrolet truck (foreground Autocycle, Sun).
Advertising Signs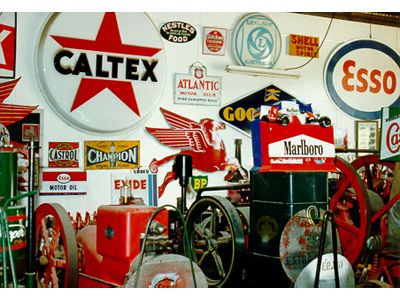 Description:
Oil engines - Cooper, Coffee Pot, Ronaldson Tippett.
Manual Petrol Pumps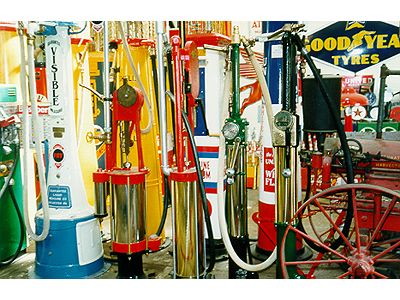 Description:
Different types of manual petrol pumps