Dow's Pharmacy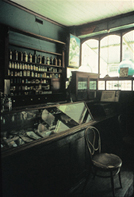 Very different from modern retailing and pharmacy is Dow's Pharmacy in Chiltern. The extent to which retailing and the science of pharmacy and medicine have changed is well highlighted at Dow's Pharmacy. Built in 1859, the pharmacy remained open until 1968 and was operated by Hilda and Roy Dow
from 1929.
Address:
Conness Street, Chiltern, VIC
Hours:
Weekends and Public Holidays 10.00am - 4.00pm
or by Appointment.
Admission:
National Trust members free, charges apply for non-members.
Facilities:
Suitable for less mobile visitors, guided tours, gift shop.
Collection:
You will find many original shop fittings, records and
pharmaceutical equipment.