Mildura Arts Centre Gallery
Founded in 1956, the Gallery was originally housed in Rio Vista House, now a historic house museum (see separate entry). A highlight of The Permanent Collection is a significant collection of English and traditional Australian paintings donated by Senator R D Elliott and Hilda Elliott, and including works by Brangwyn, Orpen, John, Cox, Streeton, McCubbin and McInnes. The Gallery also has a significant collection of contemporary Australian sculpture. The Gallery and Rio Vista are part of the Mildura Arts Centre.
Address:
199 Cureton Avenue, Mildura, VIC
Hours:
10.00am-5.00pm Mon-Sun. Closed Christmas Day and Good Friday.
Admission:
Adults $3.00, Concession $2.00
Facilities:
Limited access for the disabled, toilets also for the disabled, car and bus parking, picnic area, refreshments, sales outlet, research facilities, information brochure, education, touring exhibitions, reading room
Collection:
Estimated 1700 items of art. It includes Australia's best Degas and Australia's most important collection of sculpture of the period 1960-1980.
Items
Pastel drawing
Femme a la Baignoire se Coiffant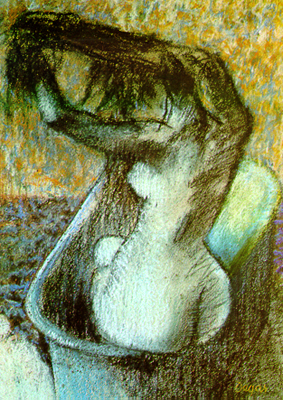 Creator:
Hilaire Germain Edgar Degas
Description:
Nude sitting in bath - backside view 66 X 46 cms, pastel
Sculpture
Mortality
Description:
Symbolic bronze sculpture, ovoid form - polished 210 X 160 cms (sited-outside)
Oil painting
Sowing New Seed
Creator:
Sir William Orpen RA
Description:
a cartoon in oil, quote Art In Aust. Feb. '35 of lady sowing seed with figures at right of landscape
Drawing
Women with Bowl of Fruit
Creator:
Sir Frank Brangwyn RA
Description:
Women with bowl of fruit (squared for enlargement) 44.5 X 26.7 cm
Oil painting
Thirroul
Description:
Arrival of D.H. Lawrence and wife at Thirroul. Oil on canvas 122 X 122 cms