Australian Racing Museum
The Australian Racing Museum is dedicated to the preservation, study and display of the nation's racing heritage. Established in 1974, under the patronage of HRH Queen Elizabeth II, the museum celebrates the past, present and future of racing. It is the only museum devoted to horse racing in Australia.
Address:
Federation Square, Melbourne, VIC
Hours:
Monday - Sunday 10:00am - 6:00pm
Facilities:
Wheelchair access, shop, guided tours, educational programs, toilets, parking, picnic facilities and playground
Collection:
The museum's collection illustrates the diverse history of racing through a collection of artwork, trophies, colours, photographs, memorabilia, riding gear, equipment and ephemera. The collection is continually growing with an active program of acquisitions, donations and loans.
Items
Framed Photograph
Phar Lap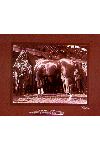 Description:
Mounted and framed black and white photograph of Phar Lap taken after winning the 1930 Melbourne Cup. Side view of horse.
Hat
Lillian Frank Hat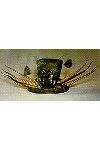 Description:
Handmade straw hat with assembled centre front decoration consisting of a bunch of soft green/black feathers. Long stiff pheasant feathers on either side extending from centre bunch, D36cm x H36cm x W100cm.
Worn by Lillian Frank to the 1992 Melbourne Cup.
Oil painting
Manfred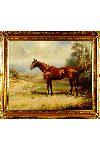 Creator:
Martin Stainforth
Description:
Oil painting of Manfred painted on canvas framed in elaborate filigree gold frame and set behind glass. 77.5cm x 90cm
Painted by leading equine artist Martin Stainforth for Ben Chaffey Esq.
Skeleton
Carbines Skeleton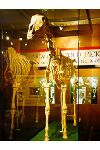 Description:
Full skeleton of well known Australian thoroughbred Carbine.
Winner of the 1890 Melbourne Cup, Carbine raced from 1887 to 1891 with an incredible race record of 43 starts, 33 wins, 6 seconds, 3 thirds.
Trophy
Melbourne Cup
Description:
Presented to Mr Cyril Neville of New Zealand, owner of Dalray, winner of the 1952 Melbourne Cup. 9ct gold cup on wooden pedestal.
An outstanding galloper, Dalray was carrying nine stone eight pounds in the 1952 cup. In 19th place when he passed the judges the first time, Dalray soon started a relented dash for the finishing line. In an exciting finish he passed the leader Welkin Sun with less than 50 yards to go.