HMAS Castlemaine Maritime Museum Ship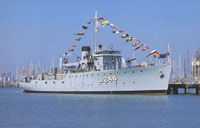 HMAS Castlemaine corvette/minesweeper, was built at Williamstown Victoria 1941-42 and served with distinction during World War II in the coastal and northern waters of Australia, Pacific, Indian Ocean and China Sea. She was paid off in 1945 and later used for training purposes at HMAS Cerberus, Westernport Victoria until the early 1970's. The Maritime Trust has now restored the vessel as a floating museum and naval memorial.
Address:
Gem Pier, off Nelson Pl., Williamstown, VIC
Hours:
Saturday and Sunday 12.00noon - 5.00pm. Weekdays by arrangement for groups.
Admission:
Adults $5.00, Children $2.50, Families $12.50
Collection:
Castlemaine is a historic WWII Australian vessel and our collection centres around the ship and period, but also covers many other aspects of maritime heritage relating to South East Australia particularly. Topics include exploration, early steam and sailing vessels, coastal trade and Bass Strait, Port Phillip and Melbourne Port history, shipwrecks, Victorian Colonial Navy Defences, early Royal Australian Navy, WW2 and shipbuilding. All are supported in the collection with books, manuscripts, relics, pictorial images, working files, ship plans etc
Items
Portrait
Naval officer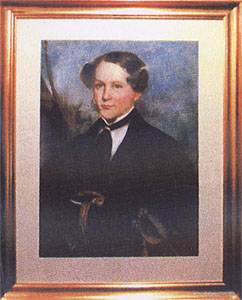 Creator:
Unknown artist - English
Description:
A beautiful 3/4 length portrait of a young naval midshipman 12 years of age - WM Henry Panter, later in 1870 the first commanding officer of the Colonial warship HMVS Cerberus. This portrait was produced before WH Panter departed for China and the 1854-5 conflict. He later served in the Colonial Naval Forces of Victoria until 1878 as Naval Commandant.
Ship's carving
Crest - City of Emden
Creator:
Unknown - ship carvers, Germany
Description:
Large wooden crest from the bow of the famous German navy cruiser GMS Emden, destroyed by HMAS Sydney in Australia's first naval battle, 1914. The crest was removed from the bow of the Emden after she was driven ashore at the Cocas and Keeling Islands. Believed to have been displayed at Flinders Naval Base in Victoria during the 1920s.
Display of decorative rope-work in miniature
Creator:
Late Sandy Boxall R.A.N (Sydney NSW)
Description:
A magnificent display board featuring a large number and wide variety of decorative rope work, knots and other items once created and used by sailors in ships. Coloured cord has been used to create interest. The knots date from those used in the 1700s to the present. This board is one of two in the museum , the other features mainly lifting and other rope work in ship and cargo handling.
Silver rose bowl
Creator:
Unknown silversmith from Drumond and Co, Melbourne.
Description:
A fine solid silver rose bowl preserved by the Melbourne Harbour Trust, commissioners to Mrs RG Menzies, wife of the Prime Minister on the occasion of the launching by her of the HMAS Castlemaine at Williamstown, 9th August 1941. The bowl was retailed through Drumond and Co, and later preserved with other artefacts from Dame Pattie Menzies' estate.
Cap ribbons
Creator:
Collected and organised by Robinson - Naval outfitter
Description:
A unique collection of possibly all cap ribbons on issue during 1939-45. This collection includes many lost and destroyed ships, requisitioned vessels, etc. The collection was assembled in Melbourne. The museum has associated head gear (hats) and clothing.