House of Bottles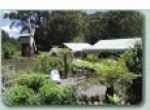 This unique Museum is built from 13,569 bottles. A collection of old bottles, rocks, minerals, fossils, gemstones, memorabilia is housed inside. A Dutch Windmill built from 5,000 bottles with a turning sail is a feature of the Museum, which is situated close to the scenic Kinglake National Park.
Address:
8 Parkland Road, Kinglake, VIC
Hours:
10am-5pm Sat-Thu, all public holidays except Christmas Day, and open every day during the school holidays.
Admission:
Adults $2.50, Children $1
Facilities:
Access for the disabled, toilets, car and bus parking, light meals, Devonshire teas and refreshments, sales outlet, guided tours, information brochure
Collection:
Approximately 4 000 items
Items
Bottles
Description:
Bottles, hand moulded and blown, includes early specimens to present day manufacture.
Petrified Woods
Description:
Cycads / Palms / Harwoods / Softwoods / Fossilised remains of once living trees.
Date:
30-40 million years
Minerals
Description:
Minerals from various mining areas in Australia
Domestic Irons
Description:
Coals, Stove top, Petrol, Kerosene, Electic and Electric Steam Irons.
Shoes Ornamental
Description:
Ceramic, pottery, china, glass, minature to full size shoes in the 'Frances Campbell Collection'.