National Steam Centre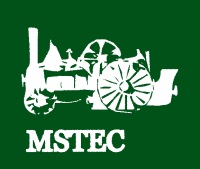 The Museum is situated on 6 hectares of Park land allowing for good demonstration of mobile exhibits. There is sufficient area to demonstrate the farming and road making equipment.
The collections of stationary engines are housed in large sheds with the steam engines and larger IC exhibits permanently mounted for operational display.
A blacksmith's shed includes a steam hammer and associated boiler.
An annual rally is held in early March when enthusiasts from around the state bring exhibits to swell the displays.
Well groomed grounds with a lake, BBQ and picnic facilities as well as a miniature railway make the museum a good place for a family day out.
Address:
1200 Ferntree Gully Road, Scoresby, VIC
Hours:
11am - 4pm Saturday and Sunday except Christmas and New Year
Admission:
By Donation except special events
Collection:
The collection comprises around 400 engines and pieces of machinery. In addition to the items owned by the club directly, items owned by various club members are also on display. Most engines are restored to operational order. Areas of strength are mobile steam engines, including a large ploughing engine, traction engines, steam rollers and portable steam engines; a stationary steam engine museum with a very comprehensive range of smaller stationary engines covering many of the historical applications of steam from early marine engines through winches, compressors and generator sets to turbines; a collection of industrial diesel generators; vintage road making equipment and tractors; a blacksmith shop is used to exhibit a Melbourne made steam hammer.
The club gives special emphasis to its collection of Australian manufactured engines which range from 1890's steam engines through to tractors and internal combustion engines from the 1950's and 60's
Items
Road Grader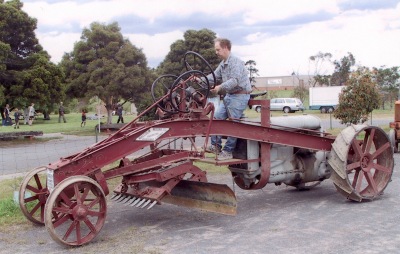 Creator:
Malcolm Moore Pty Ltd, Port Melbourne, Victoria under license to Wehr Company, Milwaukee, USA
Description:
Road grader powered by Fordson 4 cylinder petrol engine. One of the earliest graders used by the Country Roads Board. Now owned by Victoria Roads and on long term load to the Museum.
Hot Bulb Engine
Austral engine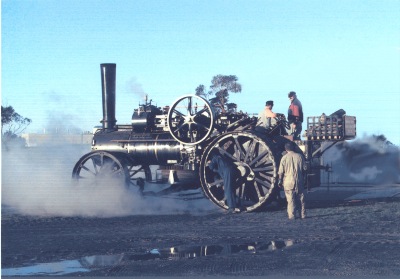 Creator:
Ronaldson Bros & Tippett, Ballarat, Victoria, Australia
Description:
Single Cylinder horizontal hot bulb ignition engine, 26 HP, Bore 13.5" stroke 18". Although the engine is a HP model it is not standard and has many parts that were normally fitted on the 30 HP model. This engine originally drove an irrigation pump (two stage days) for Quick's citrus grove in Cobram. From 1949 until its purchase by MSTEC in 1970 the engine was owned by H Waterhouse who used it at his sawmill in Monbulk until well into the 1960's
Ballarat, Cobram, Monbulk, Victoria
Steam driven Gas compressor
Pintsch compressor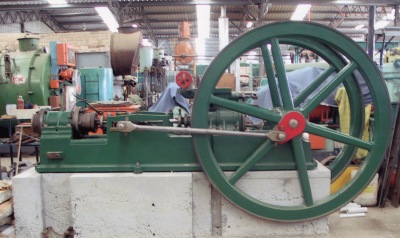 Creator:
Pintsch Patent Lighting Co, Berlin, Germany
Description:
Single cylinder horizontal tandem compressor steam bore 10" gas bore 6.75" stroke 12.5". Pintsch gas was a gas made from crude oil and used to fuel gas lights in railway carriages. A plant was installed in the Spencer street railway station in 1898 to generate the gas. The gas was generated into low pressure tanks then compressed by the Pintsch gas compressors into storage tanks where it was stored at a pressure of 165psi. It was piped to the station and used refill tanks on passenger carriages.
Marine steam engine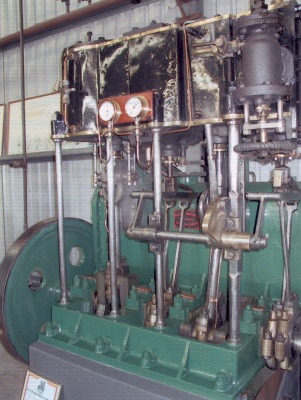 Creator:
D & R Buchannan and Brock, South Melbourne, Victoria
Description:
Compound condensing reversing marine steam engine Bores 9.25" & 20.5" x stroke 12". During the 1890's several engines of this size and design were built by Buchannan and Brock for the Victorian Department for use in Naval launches but it has not so far been possible to trace the original use of this one. The club acquired it from the Royal Melbourne Institute of Technology where it had been in use for many years as an instructional engine in Engine driving department.
Steam Ploughing Engine
Fowler Z7 Ploughing Engine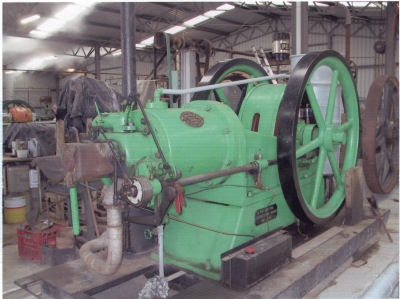 Creator:
John Fowler & Co Ltd, Leeds, England
Description:
Compound two speed ploughing engine, bore 8" & 14" x stroke 14", D Slide valves, working weight 25 tonnes, 2 speed winding drum. The engine was one of six imported as three pairs for the Murrumbidgee irrigation scheme in 1920. By1921 they were being used for ploughing farm land and were sold by 1926. When the club purchased it in 1971 it was in a sawmill at Darling point in NSW where it had driven a circular saw.
Murrumbidgee, Darling point,