Bank of Victoria Museum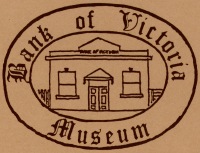 Two historical buildings - a former Bank of Victoria and Manager's Residence - in the historic gold town of Yackandandah. The buildings are furnished as they were originally. There is also a collection of objects, local buildings, businesses, families and information in photographs.
Address:
21 High Street, Yackandandah, VIC
Hours:
Sunday 12:00noon - 4:00pm during Victorian school holidays.
Admission:
Adult $2.00, Child (under 16 yrs) $0.50
Facilities:
Guided Tours, Education Programs, Brochure Information, Research Service (not public access)
Collection:
The collection contains local community records, minutes, school records, maps, photographs, family histories and objects from white settlement in the 1840's.
Items
Book
Scrapbook
Description:
A compilation of items relevant to Yackandandah
Tickets, brochures, photographs, newspaper cuttings etc. covering a wide range of locally based events.
First aid kit
Snake bite kit
Creator:
Dr. Augustus Mueller
Description:
Small box containing syringe, cloth, bottle (empty) with glass stopper.
Dr Mueller practised in Yackandandah from 1860's to late 1890's. Research included Typhoid fever and snake bite treatments. Also well known Vigneron.
Phonograph
Edison phonograph
Description:
Edison roll player, with trumpet, rod and lid.
Cylinder, included for playing.
Ruler
Cylindrical ruler
Creator:
Bank of Victoria
Description:
Dark wood cylindrical ruler for use with banking ledgers.
One of a variety used by staff in the bank of Victoria
Wedding Dress
Wedding Dress
Description:
Fine cotton voile, white, long sleeves, lace and cutwork decoration
Worn by Charity Hobbs at her marriage to William Collins, nephew to David Collins the Govenor of Van Diemans land, on the 8th of October 1808.