Quilt No.1115KJ - Kay Jones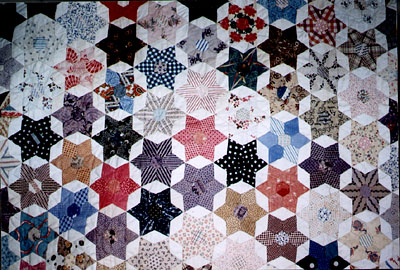 Description:
Quilt top with English piecing in a star in polygon pattern. English and French cotton fabrics in a wide variety of patterns and plains constructed over papers with the tacking still in tact. Papers are mainly part envelopes some with stamps and post dated 1898. 2200 x 1800mm
History:
The quilt top was possibly made by Alice Attridge in Essex. Alice died in 1918. It then passed to Alice's daughter Florrie Clayton and then to Alice's grand-daughter Shirley Gibb and is now owned by Kay Jones the maker's great grand-daughter. It was brought to Australia in 1976.
Story:
"Not much is known about the quilt. Alice died in 1918 when my mother, Florrie Clayton, Alice's daughter was 14. My mother obviously kept the quilt as a memento of her mother and it stayed in a cupboard until we brought it to Australia in 1976 when again it was put in a cupboard in, horror of horrors, a plastic bag. Then I gave it to my daughter Kay Jones and its history came to life." [Shirley and Brian Gibb 20.8.02]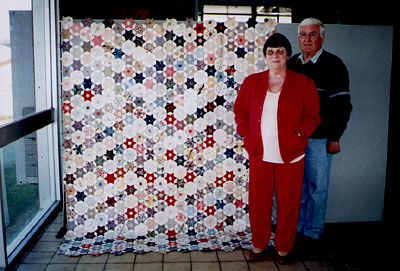 Related Quilts:

Hand sewn quilt (possibly child's or table top) of crazy patchwork in silk, silk ribbon and cotton velvet. The top has surface decoration of embroidery on all seams, feather stitch and blanket stitch variations. Many of the crazy patches are also embroidered. The centre patch has a rooster embroidered in lame thread. Embroidered motifs are hearts, butterflies, guitar, cow, Little Red Riding Hood, horseshoes, crown, clover leaf. Stitches are feather, stem, satin and blanket. Embroidered initials are 'B', 'R', and 'S'. The backing is dark grey silk.
840 x 840mm

Machine stitched quilt made from tailors' samples cut into squares. The colours are mainly greys, browns and fawns. There is no padding and the backing is a grey herringbone heavy woollen material with a white fleck. This is folded back to the front to make a 75mm border and finished with a dark grey braid where it meets the patchwork top. 1525 x 1225mm

Large hexagon rosettes in a variety of plain colours. 6 form a flower and each hexagon has a contrasting colour for the centre. Machined smaller hexagons give a ruffled effect. Colours of flowers include teal, burnt orange, pink, lime and mauve. The material is nylon and the backing is a single piece of pink bubble nylon. The padding is a single piece of calico.
2050 x 1530mm

Quilt of crocheted squares (sometimes known as Granny squares) in pinks, blues, greens and brown, with a green crocheted border edged in brown. Quilt is backed. A cot quilt or a knee rug.

Quilt of alternate green and fawn squares (100mm) in knitted fabric, originally swatches of sample fabrics. Padding is a piece of old blanket. Backing is fawn flannelette, and the quilt is finished with a flannelette ruffle.
1423 x 1124mm

Patchwork quilt, all cotton including cotton filling. "Wedding Ring" pattern in variety of materials in plains and patterned, many pinks and blues.
Hand sewn and hand quilted.
2236 x 1804mm