Quilt No.1115KJ - Kay Jones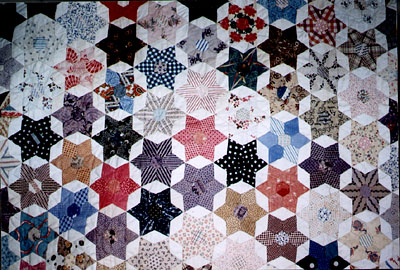 Description:
Quilt top with English piecing in a star in polygon pattern. English and French cotton fabrics in a wide variety of patterns and plains constructed over papers with the tacking still in tact. Papers are mainly part envelopes some with stamps and post dated 1898. 2200 x 1800mm
History:
The quilt top was possibly made by Alice Attridge in Essex. Alice died in 1918. It then passed to Alice's daughter Florrie Clayton and then to Alice's grand-daughter Shirley Gibb and is now owned by Kay Jones the maker's great grand-daughter. It was brought to Australia in 1976.
Story:
"Not much is known about the quilt. Alice died in 1918 when my mother, Florrie Clayton, Alice's daughter was 14. My mother obviously kept the quilt as a memento of her mother and it stayed in a cupboard until we brought it to Australia in 1976 when again it was put in a cupboard in, horror of horrors, a plastic bag. Then I gave it to my daughter Kay Jones and its history came to life." [Shirley and Brian Gibb 20.8.02]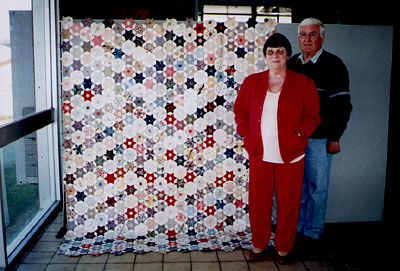 Related Quilts:

Rectangular quilt with front and back made of rectangles of cotton samples of shirt materials, in checks, stripes and plains. Colours are soft muted reds, greens, blues, yellows and browns, and pastels. Construction is 3 to 4 rows of rectangles joined across the quilt. Padding is probably an old blanket. There is a row of hand quilting approximately the width of one patch in from the edge, holding the layers together.
1870 x 950mm

Rectangular quilt of print and plain cottons pieced in squares and rectangles, the centre group of pieces surround a larger piece of pale blue fabric, within a frame or border, of bright pink material, then 3 rows of squares and rectangles. Backing of plain fabric. Machine stitched on a treadle machine.

Cotton scrap quilt with shapes of diamonds, strip and squares. The quilt has been repaired using machine zig zag in white cotton. There is no padding and the backing is calico.
2175 x 1625mm

Patchwork quilt of hexagon patches with a large central group of 14 rows, then groups or 'flowers' of 6 patches placed over the rest of the quilt. The colours are red, black, white and blue, in a mixture of stripes, florals and plains. No padding. Backing is a double bed sheet. Hand sewn.
2591 x 2566mm

Quilt of small silk and rayon rosettes of hexagons in prints and plain materials including velvet, voided velvet, chine, printed silk, brocades, taffeta, satin, crepes. Many of the materials are from Japanese kimono and wrapping silks. It is pieced over papers, one paper has a typed date '1930'. The backing is black silk satin and is turned to the front to form a border.
1695 x 1390mm

This quilt consists of many blocks of different colours with etchings and verse from the bible machine appliqued on to a red backing material. It is a kit quilt.
2580 x 24100mm