Quilt No.1115KJ - Kay Jones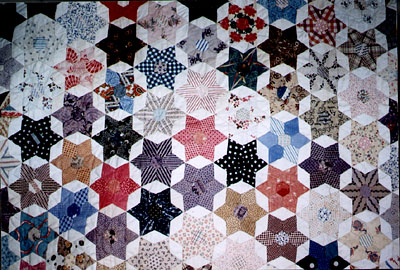 Description:
Quilt top with English piecing in a star in polygon pattern. English and French cotton fabrics in a wide variety of patterns and plains constructed over papers with the tacking still in tact. Papers are mainly part envelopes some with stamps and post dated 1898. 2200 x 1800mm
History:
The quilt top was possibly made by Alice Attridge in Essex. Alice died in 1918. It then passed to Alice's daughter Florrie Clayton and then to Alice's grand-daughter Shirley Gibb and is now owned by Kay Jones the maker's great grand-daughter. It was brought to Australia in 1976.
Story:
"Not much is known about the quilt. Alice died in 1918 when my mother, Florrie Clayton, Alice's daughter was 14. My mother obviously kept the quilt as a memento of her mother and it stayed in a cupboard until we brought it to Australia in 1976 when again it was put in a cupboard in, horror of horrors, a plastic bag. Then I gave it to my daughter Kay Jones and its history came to life." [Shirley and Brian Gibb 20.8.02]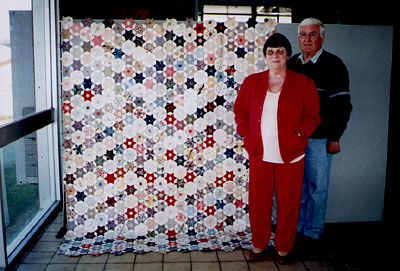 Related Quilts:

Reversible cot quilt, hand pieced, in the log cabin pattern; the blocks measure 150mm square. The patches have been cut from plain and patterned dress, pyjama and men's shirt fabrics. Strong diagonals were created in the overall design through using light and dark colours, often a strong red, to divide the log cabin blocks in half diagonally. The back is made from rectangles of striped men's shirt fabrics in pastel blues, pinks and browns with a large 'flowe' in each corner, each pieced from six hexagon patches around a central seventh hexagon. There is no padding.
[PHM] 1720 x 1150mm

Cotton Hexagon quilt with a wide variety of patterned and plain materials. Blue binding and a cotton backing. The padding is thought to be cotton wool.
1525 x 1220mm

Patchwork quilt in crazy pattern, with pieces of silks, corded silks and velvets in prints, plaids and plains. Nearly all pieces are edged with embroidery, and many pieces have embroidered names and motifs. There are a variety of embroidery stitches. The backing is of slub cotton in a plaid pattern in yellow, grey, red and white. No padding. Quilt has a gathered edging of dark red organdy and silk. Names and dates embroidered are: Bert, Milly, Toots, Verdi, Ida, and 1893, 1895, 1894.
1550 x 1420mm

Log Cabin quilt made from a variety of cottons and silks. There is no padding and the backing is calico bags. 1500 x 1250 mm.

Log cabin quilt consisting of 36 blocks each 200mm square. Light and dark arrangement with a variety of small patterned cotton materials (floral, spotted, striped) and plains. The blocks are hand stitched on to fine cotton and then joined by machine. There is a 120mm double gathered frill of floral cotton with a beige background. The backing is 2 pieces of cream cotton with repeat floral and musical motifs interspersed with forget me nots.
1500 x 1500mm

Patchwork quilt made of pieced blocks in the 'Shoofly' pattern, in white cotton and a red, white and blue geometric cotton print. Alternate squares are in the print. The border is made of same size squares in the print. No padding. The backing is a sheet. Hand sewn.
1829 x 1829mm