Quilt No.1115KJ - Kay Jones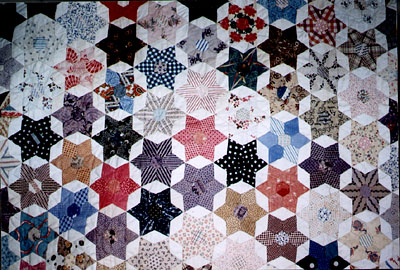 Description:
Quilt top with English piecing in a star in polygon pattern. English and French cotton fabrics in a wide variety of patterns and plains constructed over papers with the tacking still in tact. Papers are mainly part envelopes some with stamps and post dated 1898. 2200 x 1800mm
History:
The quilt top was possibly made by Alice Attridge in Essex. Alice died in 1918. It then passed to Alice's daughter Florrie Clayton and then to Alice's grand-daughter Shirley Gibb and is now owned by Kay Jones the maker's great grand-daughter. It was brought to Australia in 1976.
Story:
"Not much is known about the quilt. Alice died in 1918 when my mother, Florrie Clayton, Alice's daughter was 14. My mother obviously kept the quilt as a memento of her mother and it stayed in a cupboard until we brought it to Australia in 1976 when again it was put in a cupboard in, horror of horrors, a plastic bag. Then I gave it to my daughter Kay Jones and its history came to life." [Shirley and Brian Gibb 20.8.02]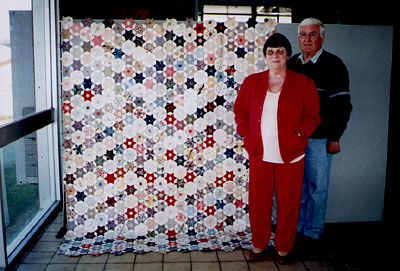 Related Quilts:

Patchwork quilt made from hexagon patches of cotton, silk, brocade, sateen and wool. Some silk patches are individually lined. Colours are mainly red, blues, purple, black, yellow and brown, with some pastels. Many silk patches have disintegrated, showing the paper templates. Quilt has a brown cotton inner lining, then a blue cotton backing, and is edged on the reverse with checked silk. Hand sewn by more than one person: one experienced sewer, one not so experienced.
1370 x 1170mm

Square quilt top. Floral centre piece with borders of squares set in a diamond pattern. Squares are in plain colours and patterns. There is no padding or backing.
920 x 920mm

Double bed patchwork coverlet of pieced blocks in a pinwheel or dresden plate pattern of prints on a cream ground, each block with a 1 3/4" border or sash. Each pinwheel has 10 pieces, and the quilt is constructed 8 blocks by 6. Cotton fabrics are in florals, checks and stripes, in blues, greens browns, pinks, purple. The quilt was in poor repair and has been reduced in size. Conservation work has been done by the State Conservation Centre.
Backing or filling unknown.

A 'Farm Life Quilt' made from alternate squares of beige linen and brightly coloured cotton headcloth. The coloured squares are farm animals and birds in a variety of embroidery stitches. The beige squares have a cornucopia design embroidered in dark brown stem stitch. There is a wide border front and back of beige linen. The backing is brown and white check cotton. There is no padding.

"The quilt is made up of many cotton hexagons of various colours, patterns and designs, finely sewn by hand, making a very attractive bedspread. Each patch is lined with lawn. It is quite a heavy quilt, with its plain border, and backing of home-spun cotton or cesarine. The family always called it a 'cottage design'."
No quilting.
2312 x 1905mm

Patchwork quilt of pieced repeat blocks in 'T' pattern,mainly cottons. Quilt is constructed with 12 blocks across and 12 blocks down. Some fabrices have been reused from clothing, some blocks have patches which have been pieced from scraps to make enough fabric for the pattern. Padding is' pellon', quilt is backed, bound and quilted.
1600 x 1500mm