Quilt No.252HS - Helen Sparkman
Description:
Patchwork quilt made of Suffolk Puffs mainly in cottons. It has a light green wholecloth backing.
2100 x 950mm
History:
This quilt was made by Clara Pitt, daughter of Matilda Pitt, probably during the 1950s. It has always been in the family and Clara was the great aunt of the present owner, Helen Sparkman. It is not used now.
Story:
"Clara May Pitt 1892-1985 (Daughter of Matilda Pitt)
Clara made many quilts mainly during the 1950s and 1960s, not out of need but because of her love of patchwork. Her quilts were mainly Hexagons and Suffolk Puffs. Clara was a single lady who had five neices and a nephew, and quite a number of great neices and nephews. As each quilt was completed it was presented to a family member. These family members now cherish her gifts, even though all have often smiled and queried her fabric selection, placement, neatness and her continual use of white thread over the years. Clara was over 80 years of age when she made her last quilt (Hexagons of course) for a private museum."
[Helen Sparkman Dec.2000]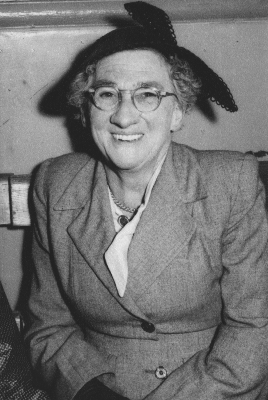 Related Quilts:

Small patchwork piece in crazy patchwork in silks, satins, and velvets. Embroidered initials 'A.N' also an embroidered crest, the date 1869 with initials 'A.W.N'. There is also decorative stitching over the joins of most pieces. It is not padded. The backing is Jacquard.
661 a 649mm

Patchwork cot quilt top made from cotton hexagon patches, featuring a centre rosette with 7 rows of patches around it forming an elongated shape, with rosettes and patches randomly placed on the sides. Quilt has a border of triangles pieced to form squares. Cotton prints with over 50 different patterns. Colours are faded, with red and brown (may be faded green) and mostly pastels. Hand sewn using whip stitch. No padding or backing.
990 x 825mm

Large centre rectangle of hexagons in various colours of patterned and plain cottons. It is surrounded by a wide border in a checkerboard of red and white cottons. There is a wholecloth cotton backing. The front and the back have been turned under at the edge and machined. There is no padding.
1829 x 1372mm
Crazy quilt made from a lot of light wools including gabardine types. Patches are outlined in embroidery stitches and there is additional embroidery on some patches. It is worked in 3 ply wool thought to be Patonyle (early blend of nylon and wool). The backing is a floral print mainly black with a cream flowers, brought to the front as a binding. Occasional stitches holding front to back by way of quilting. There is no padding.
1600 x 2100mm

Patchwork quilt of hexagons in 'Grandmother's Flower Garden' pattern, consisting of a dark centre hexagon, a row of light patches, then a second row of dark patches in the same colour as the centre. Each group of patches or 'flower' is joined by white paths. Colours are predominantly red, blue, brown and pale or faded colours. Some fading; some dark colour fabrics have deteriorated. Backing. Hand sewn. Border of quilt and backing sewn edge to edge.
2236 x 1829mm

4 Pieces of a patchwork quilt which was formerly a whole quilt. It is pieced in cottons in blues reds and browns in many prints. There are whole circles and pieced circles against a plain cream calico background. It is wool lined and is quilted. There are the initials 'A.B.' and '1828' on a central piece. The 4 pieces are various sizes.