Quilt No.37BHS - Busselton Historical Society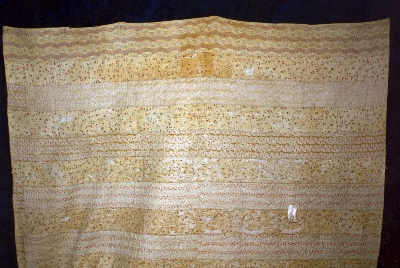 Description:
The strip quilt is handsewn and quilted. Quilt top has 13 panels or strips of 3 different cotton lawn floral prints. Some fabrics are now wearing. Backing is of plain white cotton. The padding is wool. Quilting features a triple row cable design with flower motifs.
2100 x 1800mm
History:
Made in England in 1863 by Clara Staley's grandmother. Clara Staley came to Australia in 1920 and was part of the Group Settlement in 1922. The quilt was known as 'Aunt Clara's Quilt'. Donated to the Busselton Historical Society [WA].
Related Quilts:

Frame quilt with the centre frame featuring stars. These are English pieced and then appliqued on to the background using straight stitch on the machine. Borders are squares, rectangles and truangles. Mainly cottons. There is no padding. The backing is an old white bedspread similar to a Marcella.
1900 x 1930mm

This quilt consists of many blocks of different colours with etchings and verse from the bible machine appliqued on to a red backing material. It is a kit quilt.
2580 x 24100mm

Quilt in frame style patchwork with applique and broderie Perse applique in printed cottons and linens with silk embroidery. The centre frame has an octagonal shape of floral printed material appliqued on to cream linen surrounded by pieced and appliqued triangles and sashing of printed cotton. Above the frame is embroidered in dull gold silk in cross stitch 'Mary Moxey 1818 Emma Tremlett Born Decr 16th 1837'. Outer borders are pieced and appliqued diamonds and hexagons separated by printed sashing. The quilt is backed with cream linen.
2405 x 2373mm

Unfinished cotton frame quilt. The centre square is 4 triangles and this is surrounded by a border of smaller triangles. Most of the other borders are of triangles in a wide variety of materials, printed and plain.
2286 x 1829mm

Patchwork quilt has pieced blocks in the 'Ohio star' pattern in red print and white cotton, alternating with plain white blocks. Quilt has a 9cm frill in red and grey geometric print cotton, machine stitched around the edge. Quilt appears to have some hand quilting. No padding. Backing is white cotton.
2210 x 2060mm

Machine sewn reversible quilt. Side 1 is rectangles of men's suiting samples in mainly grey, navy and black, stripes and self patterns. Side 2 is men's suiting samples but also includes woollen rectangular pieces in plain blue and deep pink. There is a hand sewn binding of fine orange-brown wool. The padding is hessian and cotton.
1460 x 1100mm