Quilt No.396GD - Greg Davies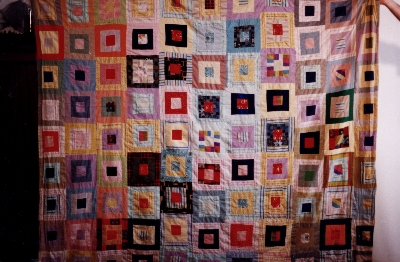 Description:
Patchwork quilt, log cabin with central patch plus 2 logs. Many different materials from 1950s and 1960s. Machine pieced. The padding is a woollen blanket and the backing is a flannelette sheet. The quilt is tied with yellow cotton at each corner.
2170 x 1880mm
History:
The owner inherited this quilt from a relative in San Francisco who came to Australia in 1998
Story:
Unknown apart from the fact that the relative who brought the quilt to Australia had been in New Orleans and it is thought the quilt may have come from there.
Related Quilts:

Hand sewn cotton cot quilt with pattern of red and white lozenge shaped hexagons measuring approximately 65mm from top to bottom. A centre flower is constructed from 2 circles of 19 hexagons in red and white. This is surrounded by 8 smaller hexagon flowers. Additional single red hexagons are scattered at random on the white background around the rows of flowers. The quilt is not quilted or tied but is attached at all 4 edges. Writing on the back of the quilt (probably added later) reads "Made by Sarah Hodge, Newport, Wales UK for her first child John." There is no padding and the backing is white cotton. 1000 x 1250 mm.

Cotton quilt, machine sewn and hand quilted. Pattern similar to Double Irish Chain. The background is white and the small squares mainly patterned in pinks, blues, lilacs and greens. The backing is plain white cotton and the padding, which is lumpy, could be some type of cotton.
2057 x 1220mm

Cotton Hexagon quilt with a wide variety of patterned and plain materials. Blue binding and a cotton backing. The padding is thought to be cotton wool.
1525 x 1220mm

Quilt made with a rectangular centre panel of cotton fabric printed with red poppies and black flowers in a japanese style. The panel is surrounded by a wide black satin border. The backing is of black cotton, covering a previous backing of green floral cotton fabric. The padding is feathers.
1700 x 1370mm

Machine pieced cotton quilt, in random design of geometric pieces. Materials used are cotton sheeting, dress fabrics, broderie anglaise, and seersucker. There is no padding, and backing is white curtain lining.
1540 x 1150 mm.

Crazy patchwork quilt with pieces made from cottons, rayons, silks and taffetas. Each piece is stuffed with kapok and machine sewn to a backing then a wholecloth floral cotton backing has been added.
920 x 164o mms