Quilt No.476JEC - Janine and Eva Chick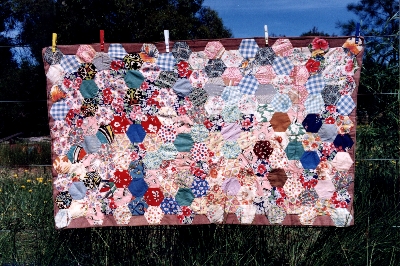 Description:
Hexagon quilt, hand sewn, using a wide variety of patterned and plain cotton scraps left over from dressmaking. 6 hexagons are placed around a centre one. There is no padding. The backing is brown flannel turned over to the front with hexagons hand stitched to it.
1220 x 763mm
History:
Doreen Vincent made the quilt in 1935 for her great grand daughters Janine and Eva Chick as a cot quilt. It is stored at the home of Mr.and Mrs. L.R. and F.E Chick (grandchildren) but is owned by Janine and Eva Chick.
Story:
"This quilt is a replica of quilts made each year by the Ladies Guild at Holy Trinity Cathedral Wangaratta. Each member sewing together by hand a block 8 inches wide. Each separate piece hand sewn, and tacked, and hemmed over a six sided piece of heavy brown paper, joined around a centre piece and at the meetings put in a big box to be finally joined up. Grand Mother Doreen Vincent, each year had the job to join up all the collection up on the kitchen table and tack them all on to a quilt size length of washed calico. Then when finished the quilt was donated to a church home. When the great grand children arrived a quilt was lovingly made for Janine and Eva's cot. Bits of everybodys dresses and very colourful. Leaving behind a loving memory of great Gran for all our family to treasure." [Faye Chick 26.11.1998]
Related Quilts:

Utility quilt hand and machine sewn. The top has a centre frame of hand sewn hexagonal patches in a mix of dress materials and shirtings with four corner flowers and a roughly circular ring in red and blue stripe. The inner border has rectangular pieces in red/yellow/green/white hexagon printed material alternating with a blue/white spot. The outer border consists of large pieces of material, predominantly pink and blue stripes and checks. The backing is mainly red/white printed cotton. It is quilted all over in a diamond pattern. The padding is mainly flannel and has been made from another quilt.
1975 x 1675mm

Quilt made of Suffolk Puffs or flattened circles, in different bright colours in cotton and silk. Large single bed size.

Patchwork quilt, all cotton including cotton filling. "8 pointed star" with turkey red surround, white background. Hand stitched and hand quilted.
2109 X 1727mm

Unfinished patchwork top made from hexagon patches in the 'Grandmother's Flower Garden' pattern, in glazed and unglazed cottons and some twill fabrics. 7 patches for flowers with white and some cream patches forming paths. All fabrics are patterned and date from c.1825-1840, including pieces of toile de jouy, stripes and florals. Colours are predominantly reds and blues with some green, brown, purple; one flower is in chrome yellow, 8 flowers are in turkey red indicating probably the latest fabric. The quilt is hand sewn and the papers are in tact in most patches.
1508 x 940mm

Cotton quilt in 'Wedding Ring' pattern. Background material is calico type in cream and the rings are in pastel colours, yellow, pink, blue and green prints and plains. It is hand pieced and hand quilted and the edges of the quilt are scalloped and finished with a pale pink binding. The backing is cotton and the padding is cotton.
2200 x 1900mm

The top is strips of mainly wools in blue, maroon and purple. The backing is imitation fur in brown and grey. They is no quilting. The padding appears to be a double sided pieced quilt from men's suitings or tailors' samples.
1500 x 1130mm