Quilt No.576JT - Jillian Towers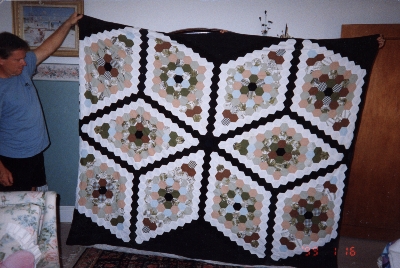 Maker
Maker:
Delores Taylor and Elsie Towers
Description:
Hand pieced patchwork quilt with 10 diamonds consisting of hexagons with white and black rows as edging. Materials include furnishing and dress materials and a type of linen. It is not quilted or tied. The backing is a small floral print in flannelette.
2180 x 1830mm
History:
The hexagon diamonds were hand pieced by Delores (Babs) Taylor in England during WW11. The black and white hexagons and the backing were added by Elsie Towers, the present owner's mother, in Australia in 1982. It is not used now.
Story:
Babs Taylor migrated to Australia from England after the war. She died in the late 1970s.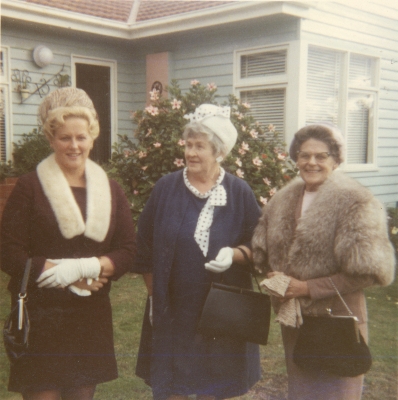 Related Quilts:

Cotton quilt made in the USA. The pattern is 'Nine Patch'. The quilt is machine pieced and hand quilted. The backing is cotton material possibly shirting. The padding is cotton.
1702 x 1702mm

Quilt in pattern known as 'double weeding ring'. All cotton, using old prints, plaids, checks and solid colours, with plain blues and red squares at the intersections of the circles. White background. Hand pieced. Padding is Hobbs Heirloom: cotton 80%, polyester 20%. Backing is cream quilted cotton. 2500 x 2100 mm.

Crazy patchwork quilt made from silk, brocade and velvet pieces, the seams covered with feather stitching in yellow silk. Fabrics are plain, and patterned with tartans, woven spots, stripes and floral brocade. Colours are rich, mainly red, pink, blue, green and cream. Quilt has a patterned velvet or velour border with urns and flowers in pale olive green and black, edged with a fringe in these colours.
1090 x 1040mm

Suffolk puff quilt with each puff approximately 4cm x 4cm. The puffs are small squares rather than the more usual circles. Materials are mainly cottons and satins in a wide variety of colours and patterns. The backing is striped flannelette and is hand stitched to the top.
1660 x 1140mm

Reused parts of hand knitted woollen jumpers patched together. Wide crocheted edge from wool unravelled from jumpers retrieved from the tip.
1905 x 1525mm

Double sided quilt. Side 1 has an off centre frame based on a hexagon and including triangles and squares in a concentric pattern. The borders are all small rectangles with a single strip of large rectangles at one end. Side 2 has a central patch of pieced shapes appliqued to the background. The borders are squares and rectangles many in striped shirting cotton. Side 1 has minimal quilting to the interlining but it does not go through to side 2. The padding is a thin sheet.
The circle (sometimes pieced hexagons) is common to other 'Craigmoor' quilts.

1450 x 1230mm