Quilt No.680AM - Alicia Murdoch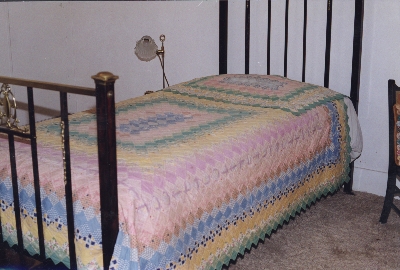 Description:
Cotton quilt with central frame and radiating borders mainly in squares in pinks and blues, printed materials and plain. The padding is cotton wool and the backing is off white cotton.
2040 x 1800mm
History:
The quilt was made by Alicia Florinda Tye, grandmother of the present owner, in the 1930s probably in America and Melbourne. It is still used.
Related Quilts:

Machine pieced cotton quilt, in random design of geometric pieces. Materials used are cotton sheeting, dress fabrics, broderie anglaise, and seersucker. There is no padding, and backing is white curtain lining.
1540 x 1150 mm.

Cotton quilt, machine sewn and hand quilted. Pattern similar to Double Irish Chain. The background is white and the small squares mainly patterned in pinks, blues, lilacs and greens. The backing is plain white cotton and the padding, which is lumpy, could be some type of cotton.
2057 x 1220mm

Quilt made with a rectangular centre panel of cotton fabric printed with red poppies and black flowers in a japanese style. The panel is surrounded by a wide black satin border. The backing is of black cotton, covering a previous backing of green floral cotton fabric. The padding is feathers.
1700 x 1370mm

Patchwork quilt made of rectangles of woollen fabrics from dressmaking projects. Pieces have been stitched together in no particular order. Colours are predominantly dark red and light grey, with some green, pink and blue. Fabrics are plain, checks and weaves. No padding or quilring. Backing is yellow curtain fabric.
2200 x 1100mm

Single bed quilt hand pieced from silk hexagons using the English method. The border, backing and central rosette of hexagons are black. All other hexagons are a mixture of plain colours, stripes and florals. They are randomly placed. It is quilted in a diamond pattern. The padding is a thin cotton woven material.
1550 x 1330mm

Pieced patchwork quilt of hexagons in cottons, chintzes and linen. The centre is pieced in 6 point hexagon stars, then radiating out are large hexagons alternating with tumbling blocks, then 6 piece hexagon stars and 4 piece hexagon diamonds. Some pieces have Egyptian patterns dating from 1800 - 1805. The backing is cream linen.
2450 x 2200mm