Quilt No.680AM - Alicia Murdoch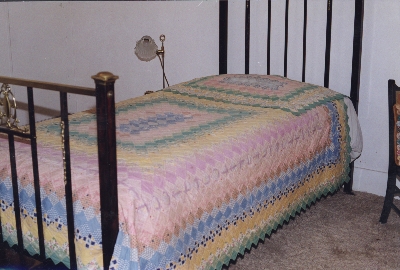 Description:
Cotton quilt with central frame and radiating borders mainly in squares in pinks and blues, printed materials and plain. The padding is cotton wool and the backing is off white cotton.
2040 x 1800mm
History:
The quilt was made by Alicia Florinda Tye, grandmother of the present owner, in the 1930s probably in America and Melbourne. It is still used.
Related Quilts:

Patchwork quilt made from squares of cotton prints in florals, stripes, spots and checks, joined together in rows. Colours are predominantly blues, reds, yellow and pastels. Binding is of turquoise blue fabric. Materials appear to be from the 40s or 50s. Patches caught in the middle with a woollen knot - red, yellow, blue wool. No quilting. Backed in blue fleecy flannel.
Single bed length and width.

Unlined quilt. Central square of floral chintz with rectangular and chevron border making a larger frame that is set within another square-on-point frame edged with 2 toned red leaf pattererned chintz. This quilt is mainly pieced (squares, triangles, lozenges) but the hexagon rosettes are appliqued. Dress and furnishing cottons dating from the early 1800s. Raw edged, unfinished. All hand stitched.
2400 x 2400mm

"A single bed cover made up of squares and recrangles of woollen fabric pieced together by a Vicker Sewing Machine from Myer Melbourne. The fabrics are either new (left over scraps) or used (unpicked woollen garments). The backing is an old (used) candlewick bedspread. There is no padding. It is faded and worn due to being used for other purposes later. There is a 66 cm high clown that ahs been appliqued on mainly by hand using blanket stitch. It is also made from scraps of fabric. The hands were cut from an old felt hat."
2400mm x 1660mm

Handmade quilt in off centre log cabin pattern. Pieces are floral furnishing and dress fabrics, in twenty blocks. There is no padding, and backing is of bright floral cotton. 1900 x 1500 mm.

Hand pieced crazy quilt in a variety of plain coloured velvets. All seams are over embroidered in a variety of stitches. There is no padding and the backing is heavy black cotton. 1900 x 1630mm.

Patchwork quilt with alternate squares of green and fawn cotton headcloth. Various Australian wild flowers are embroidered in coloured threads in the green squares. In the fawn squares there is a stylised flower and leaf pattern outlined in embroidery. The border, front and back is green headcloth. The backing is printed cotton with a floral design. There is some padding.
1610 x 1610mm