Quilt No.871AG - Annette Gero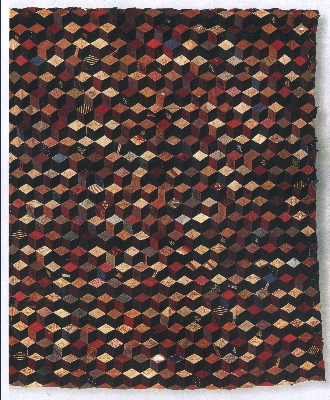 Description:
Unfinished silkTumbling Block quilt top, pieced over papers many of which remain. Some are parts of hand written letters with dates, one piece of newspaper has the date '1885' and the words 'Adelaide Milling' and 3/6 to 3/9'.
2630 x 1430mm
History:
The maker is unknown. It is thought the quilt was made about 1890. It is in the collection of Annette Gero.
Related Quilts:

Double sided patchwork quilt. One side has small 'Tumbling Block' pattern. The other side has larger pattern of pieced stars. It is made of silks, some printed, some solid colours mainly blues, greens cream and black. There is no padding.
2100 x 1800mm

Cotton quilt in pattern commonly known as "Double Wedding Ring'. Probably an American McCall's pattern. Hand stitched, florals, checks and plain pieces. The backing is pink cotton. Scalloped edge.
2300 x 1880mm

Quuilt constructed from large pieces of used clothing pieced together to form the top. There are layers of under shirts once used by the maker's father and also by her husband Bill. The backing is an old cream blanket.
1700 x 1200mm

Continuous 'sleeve' of hand sewn small hexagons, many woollen, some joined, some darned, plain and patterned. Several bands of plain coloured hexagons. The padding is ticking, an old cream blanket and part of a bedspread.
1960 x 800mm

Suffolk Puff quilt with puffs mainly in patterned cotton pieces saved from 60 years of household sewing. Puffs are formed into rosettes and the holes are on the top making a decorative feature. It is hand sewn.
2700 x 2400mm.
Child's Patchwork quilt of pieced repeat blocks in red print and white cotton, in 'Bow Tie' pattern. Qult has cotton backing, and wool filling. Some patches are fraying. The quilt has 'Mary Lactitia Thompson' embroidered on it.
1905 x 1296mm