Quilt No.948NTW - National Trust of Australia (WA)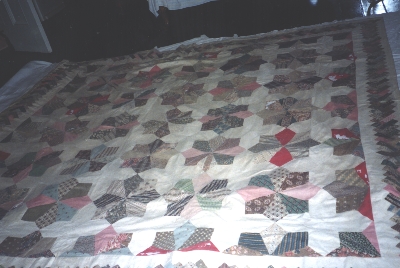 Description:
Patchwork top made of cottons, constructed with 5 by 5 rows of squared 8 point pieced stars alternating with white cross-shaped blocks (made from 4 pieces). On all sides are borders of half stars. The outer border is of rectangles of cotton prints appliquéd on to cotton to form a plaited pattern. The border only is backed with a band of cream cotton. All patches are whip stitched together.
2645 x 2615mm
History:
The maker is unknown. The quilt was bought in Portobello Road, London, UK in 1958. It was donated to the National Trust, WA by Janet Kovesi in 1983. It is stored at Woodbridge, Midland, WA
Related Quilts:

Patchwork knee rug made from maroon wool cut up from a garment into different sized rectangles. Pieced by hand, then all edges crocheted with coloured wool thread. The top was then machined and quilted to a pale blue wool backing. No padding.
1080 x 780mm

Rectangular patchwork crazy quilt pieced in squares (3 across by 4 down), in silks and wool, with red sashing between blocks and red border, quilted. Colours are dark, with red and light blue. Embroidery includes double feather, rope, herringbone, satin, cross, sword edge, buttonhole and coral stitches, and French knots. Embroidered flowers include lily of the valley, rose, daisy, and sunflower, also butterflies. Backing is pieced in the frame style, with a large centre red square, within 10 frames or borders. Embroidered "In Most Loving Memory of My Darling 1883", "V.H.B." Hand sewn.
1900 x 1500mm

Double sided quilt made from all wool worsted suiting samples. Machine construction. There is no padding.
1840 x 1330mm

A hand sewn quilt of more than 6,536 hexagon pieces in cottons, silks and polyester mix. There is a centre circular pattern of hexagons within a larger hexagon and small hexagons form larger hexagons in a random pattern on the quilt top. There is no padding and the backing is a plain fawn sheet with a floral edging in hexagons. 2880 x 2550 mm.

Patchwork quilt made from rectangles and squares of woollen fabrics from dress making projects. Colours are mainly grey, blue, brown, green, with some red and yellow. Fabrics are plain, cheks and stripes. No padding or quilting. Backing is made of white flannelette sheets. The quilt has been lengthened after it was completed, and the backing sheet has been added to at the same place.
2470 x 1320mm

Crazy patchwork quilt, mostly velvet, with two rectangular frames or borders of green fabric. All patchwork pieces have embroidery over the seams, mostly herringbone. Quilt is edged with a cream cotton ruffle. Cotton backing.
1625 x 1625mm