Golden Memories Museum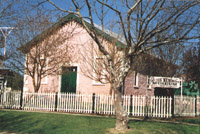 The museum houses the work of the Millthorpe and District Historical Society, who have spent thirty-six years collecting, conserving and displaying district records, artefacts, farm equipment, family history and photographs and domestic appliances. The Society provides Family History research, copies of portraits and material. They promote local history through special events, host family reunions, provide access for school excursions and coach tours, and undertake fund-raising ventures for capital improvements to the museum property.
Address:
Park Street, Millthorpe, NSW
Hours:
Weekends: Sept-Apr 1.30-5.00pm, May-Aug 1.30-4.00pm. School and public holidays: Sept-Apr Sat 10.00-5.00pm Sun 1.30-5.00pm, May-Aug: Sat 1.30-4.00pm, Sun 1.30-4.00pm
Admission:
Adults $3.50, Children $1.50, School excursions - $2 per student
Facilities:
Family history resources, guided tours by appointment, limited wheelchair access, museum and town brochure.
Collection:
The collection includes; farm machinery, an important element in the history of a rural district; houehold memorabilia showing how people lived; extensive photographic and documental family hisotry records; associated records of gold discovery, railway history, religious and educational development.
Items
Plough
Australia's Oldest Plough
Apple
First apple picked at Millthorpe
Pioneers Rolling Pin
Description:
Pioneers rolling pin made from willow branch
Verandah Toilet
Description:
Used at night to save a long walk to the backyard in bad weather.