State Mine Heritage Park and Railway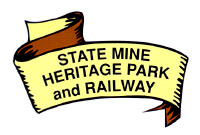 An open air museum, consisiting of a former coal mine site and three kilometres of associated railway structure. An authentic coal mining site, interpreting coal mining histoy within a context of mining ans associated industries.
Address:
State Mine Gully Road, Lithgow, NSW
Hours:
Weekends and public holidays 10.00am - 4.00pm
Admission:
Adults $5.00, Concession $3.00, Children $2.00, Families $12.00
Facilities:
Guided tours, rides in mine transport vehicles, education programs, souvenier shop, picnic facilities, barbeque facility, brochures, display lawn for vintage cars etc
Collection:
Artefacts related to the industrial history of the NSW Western Coal fields, including coal mining, support industries, steel making and rail transport.
Items
Steam Locomotive
2605 Steam Loco
Creator:
Dubs & co, Glasgow Scotland
Description:
Class: 1 (17) 2-26, 2-6-2, Saddle tank steam locomotive. Purchased by NSW Govt. Railways for use on the Blue Mountains. Worked in the Illawarra as well as Lithgow and Bathurst. Last worked at Portland Cement Works.
Continuous Miner
Creator:
Joy Mining Equipment, Franklin USA
Description:
Joy Contiuous Miner ICM Model - first drum head design. Worked at South Clifton Colliery, Wombarra, NSW. Worked from 1957 - 1972. Donated to Dept. of Minerals and Energy by North Bulli Collieries, then to SMHP&R. The actual service book is also held.
Lee Norse Continuous Miner
Lee Norse Continuous Miner
Description:
Used to dislodge and lad coal into skips or shuttle cars. Used at State Mine. When that mine closed in 1964 it was transferred to the Blue Mountains Colliery. Donated to SMHP&R when the Blue Mountains Colliery closed.
Electric Locomotive
Electric Loco
Creator:
General Electric
Description:
Small, low profile electric locomotive used for underground transport. Used at National Oil Mine at Glen Davis.