Royal Australian Infantry Corps Museum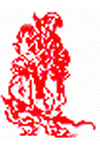 The role of the Infantry Museum is to collect, preserve and exhibit the history of the Australian infantry soldier. The Museum is located within the Singleton Army Camp, which is the home of the army's Infantry Centre. The collection includes uniforms weapons, medals equipment and memorabilia. Current exhibitions include "Kokoda - The Bloody Track", "Korean War", "Tools of Trade", "The Tasmanians", "The Owen Gun Story" and "WWII Remembered".
Address:
Lone Pine Barracks, Singleton, NSW
Admission:
Adult $3, pensioners/children $2, family $7
Facilities:
Wheelchair access, shop, guided tours, theatrette, barbeque facilities, school groups specially catered for.
Items
Rifle
Wooden Substitute
Description:
Bush timber construction with mock up steel bayonet. Used for training in WWII when no weapons were available.
Statue
Woollahra War Memorial
Creator:
William P MacIntosh
Description:
Lifesize soldier figure of World War I in bayonet charge.
Medal Group
Medal Group: Major General Henderson, AO, DSO, OBE
Description:
AO, DSO, OBE, Campaign awards to Maj Gen WG Henderson WWII to Vietnam. DFC 8 campaign awards to WO2 Harris.
Flag
Colours: 8/9 Battalion Royal Australian Regiment
Description:
Flags with battle honours of regiment - laid up in 1997.