The Oaks Historical Society
The Wollondilly Heritage Centre is a community museum managed by Volunteers from The Oaks Historical Society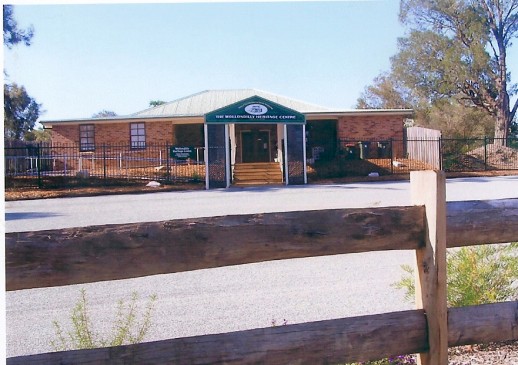 The thought provoking themes of the museum portray the working and social lives of the local communities in Wollondilly & Burragorang.
There are 5 exhibitions buildings on one acre of landscaped ground with a free covered BBQ.
A community room provides display space and A/V resources. Exhibitions change at regular intervals to provide stories from local people. It is a vibrant, contemporary museum with audio visual and interactive displays.
Address:
43 Edward Street, The Oaks NSW 2570, Australia
Tel:
+61 02 46571796
Fax: +61 02 46571796
Hours:
10.00 am - 4.00 pm every weekend and public holiday and by appointment mid week
Closed December 24th to January 25th
Open Australia Day
Closed Good Friday
Admission:
Family = $5Adult = $2Children under 15 $1HANDS-ON-HISTORY PROGRAM FOR PRIMARY SCHOOLS $5 PER STUDENTCOACH TOURS: PRE-BOOKED ON 46571224 @ $6 EACH TO INCLUDE DEVONSHIRE TEAS,PRESENTATION + TOUR
Facilities:
-Assisted disabled access
-Disabled toilets
-Sheltered verandahs and barbeccue
-Community access room with P/A system, A/V, screen and kitchennette to seat 80 people.
-Morning/Afternoon teas supplied to pre-booked groups + A/V presentation + museum tour
-Hands-on-History programme for primary students
-Assisted research for family and local historians
-Photocopier, digital scanner, microfiche/microfilm, computers
-Research Library
-Museum Shop with local history publications and crafts
-Carpark for coaches and cars
Collection:
The collection reflects the working lives of Wollondilly and Burragorang miners, orchardists, poultry farmers, timber getters and schools, churches, community organisation, migrants and Aboriginal culture.
Collection strengths include a silver ore hessian bag and samples of ore from the Yerranderie silver mines.
This collection includes the Burragorang/Yerranderie Scrolls created by Ron Mills [1972-1987] and the 18,000 card Index to the Scrolls.
Also included is a unique Welsh Folding bed (1901) used by the local Catholic Bushwalkers at their HQ at Wooglemai in Oakdale .
We have significant collection of articles relating to the dispossession of people in Burragorang Valley due to flooding of Warragamba dam.
Recent articles include tools and machinery used in the poultry industry, many of them hand-made by estonian Migrants between 1930-50.