Parramatta Heritage Centre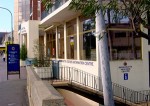 The Parramatta Heritage & Visitors Information Centre, overlooking Parramatta River and the convict built Lennox Bridge, combines visitors information, museum and local research facilities. It offers the ideal starting point to exploring the rich cultural mix and fascinating histories of the Parramatta region.
Address:
346A Church Street, Parramatta NSW 2150, Australia
Tel:
+61 02 8839 3324
Fax: +61 02 96835608
Hours:
9am-5pm 7 days a week
Except public holidays 10am-4pm

Facilities:
The Centre, which opened 1998, also houses specialist collections of council archives, and archaeology from the district, and offers dynamic public programs for adults and children. It has two other temporary exhibition spaces, a shop, as well as a seminar room and small theatrette, both of which are available for hire.