Tweed Maritime and Heritage Museum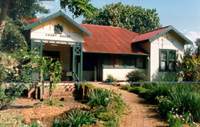 The museum complex consists of four historical buildings: the old Court House, the R.S.L. Hall, Boyd's (fishing) Shed and the Deck House of the drogher 'Terranora'. The museum's collection is housed in the Soldiers Memorial Hall and contains an interesting array of maritime artifacts and photographs.
The old Court House contains the Resource Centre which has a rapidly growing collection of historical material available to the public. The Court House also contains the Photographic Gallery which has an impressive array of old prints of the Tweed and Twin Towns area.
Address:
Pioneer Park, Kennedy Drive, Tweed Heads West, NSW
Hours:
Tuesday, Thursday, Friday 11:00am - 4:00pm; Sunday 1:00pm - 4:00pm
Admission:
Adult $4.00, Child $0.50.
Collection:
The museum's collection consists of a number of objects, buildings and photographs related to the maritime history of the area. The collection also contains heritage artifacts that relate to everyday life in a village.