Taralga Historical Society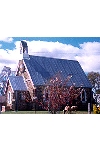 The Museum is a former Methodist church and rebuilt slab settlers cottage furnished with Australian colonial furniture, mostly home made & original. It contains displays pertaining to the family histories of people from the Laralga district.
Address:
83 Orchard Street, Taralga, NSW
Hours:
Sunday 1pm-4pm or by appointment
Facilities:
Family histories and photographs.
Collection:
Local history eg. Machinery used for dairying, potato growing, cropping etc. Photographs of local interest. Books from now closed stores, ledgers etc.