Hills District Historical Society Inc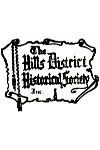 Local museum with over 4,000 photographs and several books on the Hills District for purchase. The museum conducts local area tours for adults and children. Guest speakers are available. Research facilities for local and family history are also available.
Address:
Community Centre, Old Castle Hill Road, Castle Hill, NSW
Hours:
1pm-4pm Sun, closed mid December to Mid January (or by appointment)
Facilities:
Wheelchair access, reference library, guided tours, local publications, family history archives, brochure available, local area photographic collection, education progam for primary and high schools.
Collection:
2,000 items, 4,000 photographs. Tool collection very good - complete set of wood working tools.
Items
Sampler
Tapestry Framed 'Happiness'
Description:
Sampler of writing and embroidery worked by Eleanor Fargus aged 8 years in 1836. Cloth and brown thread framed behind glass (24"x26")
Donated by a relative Mrs W.Pearl
Gramophone
Gramophone
Creator:
Handmade by Richard Craven Sands
Description:
Wooden cabinet for playing 78rm records. Contains a cabinet space for speakers and records. Extra needles included. Wind up mechanism. Box measures 20"x20"x40" high.
Donated by relative Hilda Dance
Leg Irons
Creator:
Colonial Government
Description:
Pair of leg irons worn by convicts on Castle Hill Government Farm. Made of Iron.
Dug up by Ron Banks who owns the property where the barracks of Government Farm was sited.
Ice Box
Freezesi
Creator:
Forsters Bedsteads Ltd
Description:
Square upright wooden box with front lifting lid 24"x20"x26" high.
Wooden, cork packed box donated by Miss Diterich of Kellyville who had used it.
Woodworkers Set
Creator:
Owned by Mr R Wilson, pieces made by various people
Description:
A wooden box containing a complete woodworkers set - planes, hammers, drills, chisels, saws. Tools made of wood and metal.
Donated by the owners wife Mrs R Wilson whose husband had received the set from his Grandfather.