Museum of Nursing, Royal Prince Alfred Hospital
The museum contains artefacts, photographs and archival material relating to nurses and nursing at Royal Prince Alfred Hospital, Sydney from 1882. The collection includes microfiche registers of all nurses at the hospital, autograph books and a letter by Florence Nightingale.
Address:
Queen Mary building, Grose Street, Camperdown, NSW
Admission:
Free entry, small charge for research assistance.
Facilities:
Limited wheelchair access, disabled toilet facilities, guided tour on request, research facilities by appointment
Collection:
1,500 items and archival material; 5,000 photographs
Items
Wooden Case
Viso-Cardiette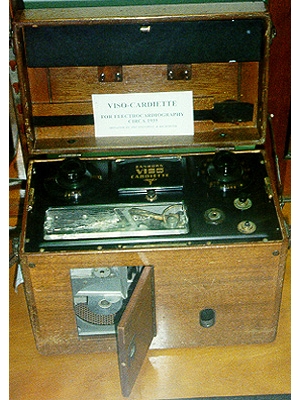 Description:
The first portable electro-cardiograph machine at Royal Prince Alfred Hospital Sydney
Purchased by Professor G.G. Lambie, Bosch Professor of Medicine at Sydney University.
Medical Equipment
Wangensteen Apparatus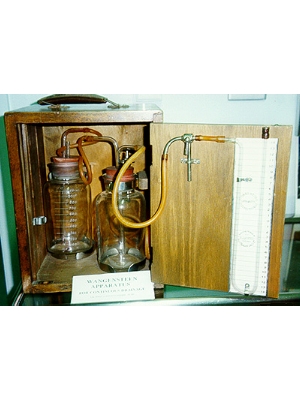 Description:
Wooden case 37cm x23cmx25cm containing 3, 1 litre bottles, rubber stoppers, airways, manometer and tubing.
Provided negative pressure suction via Ryle's Tube or Levin's Tube - the degree of suction controlled by the relative positions of the drainage bottles, for use after gastric surgery.
Diary
Personal Diary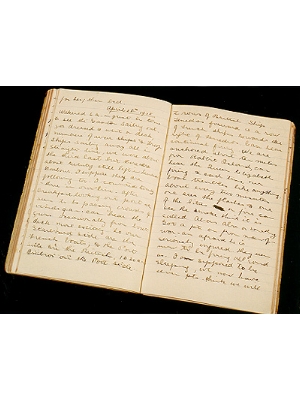 Creator:
Sister Lydia Kate King
Description:
Black covered 10cm x 8cm notebook (school type) with lined pages containing daily notes written on board Hospital ship 'Sicilia'
Date:
Dec 1914- Sept 1915
Sister Kate King maintained the daily diary while serving on HM Hospital Ship Sicilia in the Dardanelles during the ANZAC landing at Gallipoli. The date on the page illustrated is April 25th, 1915 - the original ANZAC day.
Framed Letter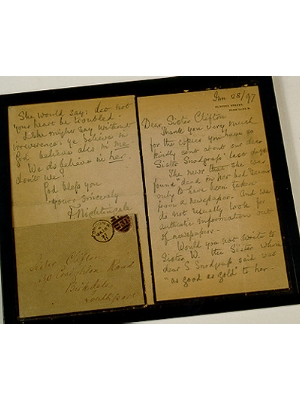 Creator:
Florence Nightingale
Description:
Handwritten to Prince Alfred Nurse, Sister Clifton.
The letter was written by Florence Nightingale in sympathy on the death of the mutual friend Sister Snodgrass.
Cabinet
Mahogany cabinet in three pieces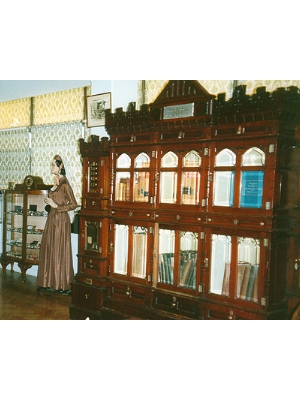 Creator:
John Weiss and Son, 62 Strand, London
Description:
Ornate cabinet with original bevelled glass in doors, fitted out to hold surgical instruments.
The cabinet was donated to Prince Alfred Hospital in 1883 by James White MLC, a breeder of thoroughbred Horses. A member of well known Hunter Valley family. Uncle of Nobel Prize winner Patrick.