NSW Schoolhouse Museum of Public Education
The NSW Schoolhouse Museum is housed in the first school buildings of North Ryde Public School. The original schoolroom was built in 1877 and started with 45 children. A second room was added in 1893 and two further rooms were added in 1910. Each room, and the differences evident in their architecture, reflect the philosophy of education of each period - from the church-like appearance of the earliest room to the curved corners of the 1910 rooms designed to minimise dust.
The rooms have been authentically restored and furnished with original school furniture items together with displays of school equipment, student work and early teaching resources
Address:
Cox's Road, North Ryde, NSW
Admission:
Adult $2.00 (general visit); Child free (with accompanying adult); Student (school visit) $5.00.
Facilities:
Guided Tours, Education Programs, Brochure Information, Venue Hire, Furniture Hire.
Collection:
The collection includes student work such as exercise books and copybooks, needlework and woodwork samples dating back to the 1870's. Also included are class registers and punishment books; early readers; texts and syllabuses including the 1880 Public Instruction Act. Other items include dumb-bells, inkbottles, inkwells, pens, original slates, original school furniture and a variety of teacher resources.
Items
Needlework sampler
Apron Needlework Sampler
Description:
White fabric apron sampler used to practise a variety of stitches. Embroidered initials "MS" and "1936". Hand-stitched.
Item Id Number:
2000 - 681
Document - syllabus
Public Instruction Act of 1880 & Regulations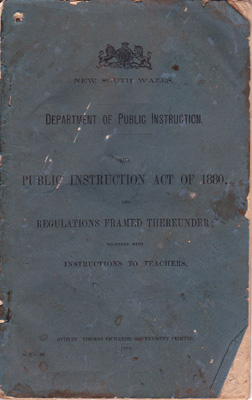 Creator:
Department of Public Instruction
Description:
duties of teachers and inspectors are specified. Also includes the course of instruction for schools, daily timetable and instructions relating to school routine, discipline and administration.
Item Id Number:
2000 - 872
Teacher's desk
Cedar teacher's desk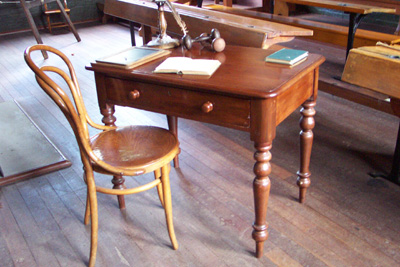 Creator:
Department of Public Instruction
Description:
Made from Australian red cedar and marked with metal punch "P (crown) S Jan '93"
Item Id Number:
2000 - 10
Student workbook
Stella Pymble's Exercise Book
Description:
Subjects included in the book are geography, arithmetic, history, grammar, composition, object lessons, poetry, tables, spelling and scripture. Corrections and comments by the teacher J Taylor, thought to be at Pyrmont Public School.
Item Id Number:
2000 - 287
Pyrmont Public School, Ryde, North Ryde, Sydney
School building
1877 Schoolhouse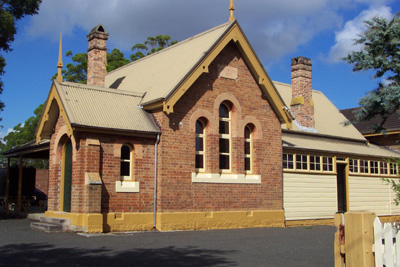 Creator:
Council of Education
Description:
Designed by government architect, G A Mansfield, in the Neo-Gothic style considered most suitable for school buildings. The schoolroom opened in January 1878 to service the rural community of the North Ryde area.
Ryde, North Ryde, Sydney, North Ryde Public School