Sydney Tramway Museum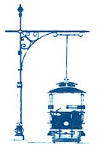 The Sydney Tramway Museum is Australia's oldest tramway museum and the largest in the Southern Hemisphere and is located in the Southern Sydney suburb of Loftus. The Sydney tramway service was a world class undertaking operating 1535 tramcars at its peak. In 1944/45 it carried over 404.6 million passengers. An excellent video on the system, "Shooting Through", is Available from the museum. The Museum has an extensive range of Sydney Trams in its 60+ tram fleet. These include "C" cars 290 (Australia's oldest preserved electric car, built 1896) and 29, single truck saloon cars; "D" cars 102 and 117, single track California combination; "E" cars 529 and 530, permanently coupled single truck crossbench; "F" car 393, bogie California combination; "K" ca 1296, single truck combination crossbench; L/P car 154, bogie 70 seat crossbench; "N" car 728, bogie 70 seat crossbench; "O" cars 957, 1111 and 1030, bogie 80 seat crossbench (Sydney's icon tram with 626 built between 1908 and 1914); O/P car 1089, bogie dropcentre saloon; "R/R1" car 1933, bogie saloon; "R1" cars 1951, 1971, 1979 and 2044, bogie saloon; Prison Car 948. Examples of freight, service and grass burning cars are also included, together with trolley bus 19. Overseas and interstate cars comprise of Nagasaki 1054 bogie saloon car; San Francisco double ended PCC car 1014; Berlin Cars 3007, 3008, 3717; Brisbane cars, 71 single truck crossbench, 180 bogie saloon, 295 dropcentre saloon and 548 bogie saloon; Ballarat cars, 12 single truck saloon (ex Geelong) and 37 bogie dropcentre (ex Geelong, Bendigo); Melbourne, cable grip 322, "W2" 392 bogie saloon and "W5" 792 bogie saloon. The museum operates over 3 km's of track including the 2kim Royal National Park line. The Royal National Park service operates separately to the museums historic service as a tourist tramway known as "Parklink". Parklink" commenced operations on 1 May 1993 over a former suburban railway branch line constructed in 1886. The Museum converted the line to light rail standards and connected it to the existing museum line to establish what is now a most popular means of access to the world's second oldest National Park.
Hours:
Sundays, public holidays (except xmas) 10am-5pm, Wed 9.30am-3.30pm
Admission:
Adults $12, Concession $6. Includes tram rides.
Facilities:
Limited wheelchair access, Kiosk, Bookshop, Guides, Education Programs, Brochure, Video.
Collection:
More than 60 Trams from Sydney, Brisbane, Melbourne, Geelong, Ballarat, Bendigo, San Francisco, Nagasaki, Berlin, Munich and Milan(Largest in Southern Hemisphere)
Items
Tramcar
C Car "290"
Description:
Australia's oldest preserved and operating electric tramcar. See http://www.railpage.org.au/tram/syd-c.html
Railway Sqaure Waiting Shed
Description:
Historic waiting shed which stood on Railway Square Sydney (end of George/ Pitt Streets) for 70 years. Re-erected at Museum.
Tramcar
F Car 393
Description:
Bogie California Combination car. Last remaining operating car of this type in the world. See http://www.railpage.org.au/tram/syd-f.html
Tramcar
Prison Car
Creator:
Randwick Workshops
Description:
Purpose built tram used to convey passengers (prisoners) between Darlinghurst Courts and Long Bay Goal - only three built world wide.
Tramcar
O Car 1111
Creator:
Meadowbank Manufacturing Centre
Description:
Sydney's classic tram 626, built and operated for fifty years throughout Sydney. See http://railpage.org.au/tram/syd-o.html