Woodford Academy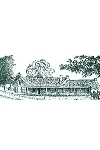 Woodford Academy, the oldest building on the Blue Mountains, is one of the most intact and substantial examples of an early colonial inn (C1833-1867), known at first as "The Woodman" and later as "The Kings Arms". From 1868 it served as Alfred Fairfax's country home and operated as a guest house in the 1880's to 1906. In 1907 John McManamey opened Woodford Academy as a boy's boarding school. The school closed in 1936, the last of the McManamey family remaining in residence until1988. It is now a National Trust Property. The building reflects 160 years of varied and continuous use.
Address:
Great Western Highway, Woodford, NSW
Hours:
10-4pm every third Saturday of the month.
Admission:
$2 Adults, $1 school-age children, Free to members of the National Trust.
Facilities:
Guided tours, Self-guided tour brochure, Refreshments
Collection:
500-5 000 items. Includes, furniture, clothing, books, photographs, school memorabilia and records, and family papers.
Items
Album
Postcard Album
Creator:
Gertrude McMahamey
Description:
Album of postcards and some photographs taken by Frederick Nelson of Bathurst.
Letter
Letter from Ethel Turner to John McMahamey
Description:
Congratulating John McMahamey on a published poem.
Water Tank
Water Tank
Description:
Underground barrel vaulted stone tank.
Dress
Wedding Gown
Description:
Late Victorian cream wedding gown with train.
Book
Admission Register
Creator:
Mr John McMahamey
Description:
Admission register of students attending Woodford Academy.