Umbarra Aboriginal Cultural Centre and Tours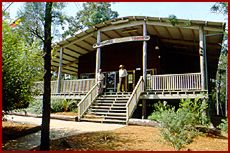 The Centre offers hands-on activities such as spear throwing, bark hut building, painting with ochres and boomerang throwing.
Activities/Features
Gulaga/Mumbulla Mountain tours: 4 - 5 hours duration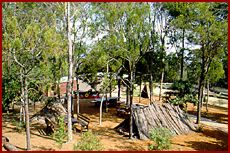 Cost: Special group rates available for Min 10 people
Fairhaven/Mystery Bay/Camel Rock tour: 1 hours duration
Cost: Special group rates available for min 10 people
Wallaga Lake Cruise: 2 hours duration
Group Bookings (10-17 people)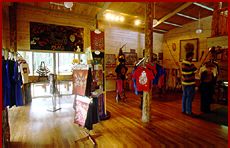 Barbecues
$10.00 Per Person (Sausages, Rissoles, Salad, Fruit, Tea & Coffee)
Morning and Afternoon Teas
$5.00 (Tea & Coffee and biscuits or cake or damper)
Contact
Eric Naylor
Address:
FMB Wallaga Lake via Narooma, NSW
Hours:
7 Days. 9am to 5pm Monday to Friday and 9am to 4pm Weekends.
Admission:
$6.25 per person for activities in the centre
Facilities:
The Centre houses a coffee shop that offers light refreshments. There are also souvenir and artefact sales and a selection of paintings from local Aboriginal artists on sale.
Collection:
At the Cultural Centre you can see historical photographs of the Aboriginal reserve at Wallaga Lake and also extensive documentation on the local Yuin peoples fight for the protection of their sacred sites. There is also a workshop viewing area where you can watch Aboriginal spears and boomerangs being made.