Old Borroloola Police Station Museum
Constructed in1886, when Borroloola was a significant riverport and drover's camp, the property was a police station for fifty years before it became a patrol officer's residence. It is the oldest surviving outpost police station in the Northern Territory.
Address:
off Robinson Road, Borroloola, NT
Hours:
8am to 5pm Mon-Fri, or by appointment.. Closed Northern Territory Public holidays, Christmas Day, Good Friday.
Facilities:
Car and bus access, parking, dogs allowed, brochure available
Collection:
The collection represents a comprehensive history of the European Establishment in the Gulf Region. The branch is presently looking to develop the collection by highlighting the Indigenous perspective on the region.
Items
Webster Dictionary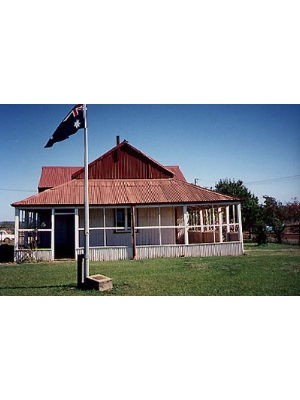 Description:
Dictionary one of the few remaining books from the Carnegie Library
Removed from the Police Station some time in the 1940-50. Returned post Katherine floods.
Safe (Ajax)
Description:
Floor safe from the Tattersalls Hotel Borroloola 1930's
Donated to the museum by Peter and Maureen Dunham. Maureen's father built the hotel and her uncle, one of the famed O'Shea family, managed the hotel and is buried in Borroloola
Gin Bottles
Creator:
Hoboken and Co., Rotterdam
Description:
Square Gin Bottle, black glass
One of the main imports into the region with many recordings of gentlemen evading the customs and excise of Alfred Searly
Leichhardt's Tree
Description:
Ironwood tree with the letter "L" carved in a rather large blaze. Recovered from the Foelcue River, Seven Emu area.
Recovered from the Seven Emu area when the tree was undermined by changing river bed.
Anvil
Description:
Anvil used for shoeing horses. Constructed from Dray Axle end.
Recovered from McArthur River bank old drovers horse paddocks in 1995