Quilt No.104QWH - The Queensland Women's Historical Assoc.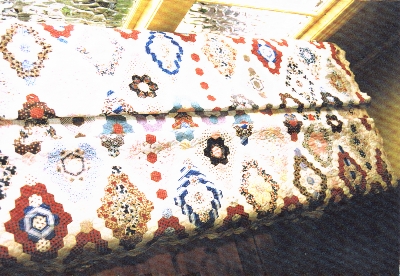 Description:
Quilt top of plain, floral and printed cotton hexagons in a diamond pattern, separated by plain white hexagons. Hand written letters have been used as templates and some are still in position but the ink is faded and the writing now illegible. Tacking stitches are still in place.
3048 x 2210mm
History:
Unknown but "reputeldy over 100 years old when presented to the Association." [Q.W.H.A]
Related Quilts:

Quilt top of cottons including shirting materials constructed in kaleidoscope pattern with star border. Hand pieced over papers, some papers remain at edges. There is no padding and no backing.
2440 x 1720mm

Small patchwork piece possibly made from salesman's samples. There is no opening in the back so it is not a cushion cover. There is no padding. The backing is green polished cotton. There is a 40mm fringe around the edge.
520 x 520mm

Cotton quilt of pieced hexagons and some diamonds made for a baby's basket. Colours are mainly blue and pink and two 'Punch and Judy's' are appliqued in the centre. There is no padding and the backing is a cotton floral in blues and greens.
760 x 660mm

Double sided machine sewn patchwork quilt made from clothing scraps, wool blends, corduroy, velvets. Patterns include checks and tartans and there are many plain colours. Shapes are mainly rectangles and squares.
1524 x 1372mm

Handmade quilt in off centre log cabin pattern. Pieces are floral furnishing and dress fabrics, in twenty blocks. There is no padding, and backing is of bright floral cotton. 1900 x 1500 mm.

Hexagon quilt made from dressmaking scraps from one neice. The quilt top only is complete and a few papers are still attached.
2250 x 2000mm