Quilt No.154DT - Dorothy Taylor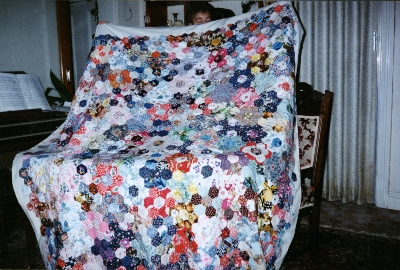 Description:
Patchwork quilt made of hexagons in printed cottons, colours predominantly red, blue pink, brown and yellow. Handsewn. Attached to a white cotton backing. Cotton padding.
1829 x 1829mm
History:
Quilt started by Betty Searle in Yackandandah (Victoria) 1970. After her death in 1992 the quilt was given to her sister Dorothy Taylor who completed it. Owned by her sister Win Nolan.
Story:
Betty Searle "Born in Yackandandah & lived nmost of her life there. The maker was left the job of bringing up 5 girls who had lost their mother. Betty was a good sewer & made all their clothes in the 1930s. She lived in retirement in a Stone Cottage in Yackandandah & spent every Sunday at the Museum helping. It was in that time - 1970 - she commenced the Quilt. After her death in 1992 the Quilt was given to me to complete I put it aside a couple of times because I knew also that Betty had run into trouble. I got to & sorted it out by lying it on the floor & adding piece by piece until I got a square. It gave me great pleasure to complete it for Win."
[Dorothy Taylor 22.10.96]
Related Quilts:

Patchwork quilt made from brightly coloured printed cotton fabrics in hexagon patches hand sewn together in rosettes, and stitched by machine onto a border of green moire taffeta. No padding. Backing is green cotton satin curtain lining. There is a matching pillow sham.
2591 x 2540mm

Crazy patchwork quilt with patches of velvet, satin and silk joined in 12 blocks. Each seam is embroidered and many patches have embroidered flowers. There is a 140mm maroon velvet border. The backing is maroon silk. There is a sachet that belongs with the quilt.
1800 x 1400mm

Patchwork quilt, all cotton including cotton padding. Pattern is based on squares and a cross. Variety of fabrics, plain and patterned. Hand stitched and quilted.
2083 x 1626mm

Patchwork quilt of rectangular wool and cotton tailors' samples, in browns, greys, navy, black and beige, in plains and patterned weaves. Padding is a woollen blanket, and the backing is a patterned cotton.
1956 x 1702mm

Frame quilt with the centre frame featuring stars. These are English pieced and then appliqued on to the background using straight stitch on the machine. Borders are squares, rectangles and truangles. Mainly cottons. There is no padding. The backing is an old white bedspread similar to a Marcella.
1900 x 1930mm

Quilt in frame style patchwork with applique and broderie Perse applique in printed cottons and linens with silk embroidery. The centre frame has an octagonal shape of floral printed material appliqued on to cream linen surrounded by pieced and appliqued triangles and sashing of printed cotton. Above the frame is embroidered in dull gold silk in cross stitch 'Mary Moxey 1818 Emma Tremlett Born Decr 16th 1837'. Outer borders are pieced and appliqued diamonds and hexagons separated by printed sashing. The quilt is backed with cream linen.
2405 x 2373mm