Quilt No.154DT - Dorothy Taylor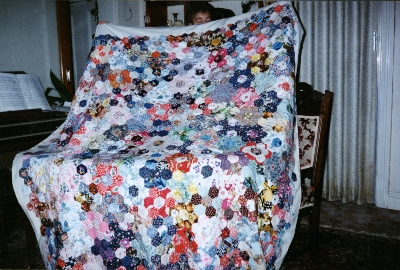 Description:
Patchwork quilt made of hexagons in printed cottons, colours predominantly red, blue pink, brown and yellow. Handsewn. Attached to a white cotton backing. Cotton padding.
1829 x 1829mm
History:
Quilt started by Betty Searle in Yackandandah (Victoria) 1970. After her death in 1992 the quilt was given to her sister Dorothy Taylor who completed it. Owned by her sister Win Nolan.
Story:
Betty Searle "Born in Yackandandah & lived nmost of her life there. The maker was left the job of bringing up 5 girls who had lost their mother. Betty was a good sewer & made all their clothes in the 1930s. She lived in retirement in a Stone Cottage in Yackandandah & spent every Sunday at the Museum helping. It was in that time - 1970 - she commenced the Quilt. After her death in 1992 the Quilt was given to me to complete I put it aside a couple of times because I knew also that Betty had run into trouble. I got to & sorted it out by lying it on the floor & adding piece by piece until I got a square. It gave me great pleasure to complete it for Win."
[Dorothy Taylor 22.10.96]
Related Quilts:

Frame quilt with central square of fabric around which the borders or frames have been added in strips. The fabrics are mostly floral, a heavy weight similar to damask or curtaining. The colours are mainly beige, brown, green and red. The original backing was a red paisly design. A second backing, of red, brown and yellow leaves on white (possibly dating from 1930s), has been added at a later date. Quilt is bound with brown fabric.
2200 x 2000mm

Reused parts of hand knitted woollen jumpers patched together. Wide crocheted edge from wool unravelled from jumpers retrieved from the tip.
1905 x 1525mm

"A tied patchwork wagga quilt made from swatches of men's wool suiting fabrics in blue/grey and pink/brown tonings. Rectangular swatches have been cut in half diagonally, and the resulting right-angled triangles paired to form larger equilateral triangles which alternate dark with light across the field. The quilt has been machine and hand pieced, then machined in vertical stripes.
The centre field is bounded by two strip-pieced borders at top and bottom, and three down each side. These are sewn from rectangles, using light pink/brown tones for the inner border and darker colours for the outer borders. The quilt is padded and backed and the side seams are secured with black herringbone stitch. The three layers are tied together invisibly with lazy daisy stitches in black cotton from the back." [PHM] The padding is a wool blanket and the backing is two pieces of cream twill cotton.
2030 x 1440mm
Dresden plate quilt with pointed pieces set around a white centre. Fabrics are checks, floral patterns and plains of the 1930s. The twenty blocks are sashed with plain mauve fabric which does not meet evenly in some places. The padding is two layers of cotton bedspreads. The backing is open weave rough quality cotton.
1860 x 1550mm.

Double sided quilt. Side 1 has an off centre frame based on a hexagon and including triangles and squares in a concentric pattern. The borders are all small rectangles with a single strip of large rectangles at one end. Side 2 has a central patch of pieced shapes appliqued to the background. The borders are squares and rectangles many in striped shirting cotton. Side 1 has minimal quilting to the interlining but it does not go through to side 2. The padding is a thin sheet.
The circle (sometimes pieced hexagons) is common to other 'Craigmoor' quilts.

1450 x 1230mm

Quilt made from woollen dressmaking scraps, sewn to an army demob issue blanket, grey with blue stripes. Patches are feather stitched in red broder cotton thread. Quilt is edged with red cotton material zig zagged into place. Colours are pink, blue, brown, black and grey, in plain cloth, weaves and checks.
1462 x 966mm