Quilt No.204MW - Margaret Wright
Maker
Maker:
Minnie Margaret Susan Thomas
Description:
Crazy patchqork quilt, handsewn, composed of six large squares of patches in brocade, velvet and silk in random shapes and sizes. Patches are stitched to others by blanket stitch in yellow thread. Some patches have surface embroidery, e.g. a dragonfly, flowers, music notes, and names, 'Minnie', 'Loyetta' (house in Ballarat), 'Diana'. There are also five small cream bobbles. Colours are red, gold, brown, pinks, greens and blues. Padding is flannel, and quilt is backed and edged with maroon or burgundy ribbed silk.
1461mm x 687mm
History:
Made by Minnie Margaret Susan Glover (later Thomas), in Ballarat (VIC). Started prior to her marriage in 1898. Owned by Minnie Thomas, then by her daughter-in-law Evelyn Thomas, then by Margaret Wright (born Thomas), grand-daughter.
Story:
"Minnie Margaret Susan Glover was born at Sulky Gully, near Ballarat on 25/8/1868, the eldest of seven children of William and Jane Glover. The children were educated at home by a governess. In 1885 the family moved to 'Loyetta', 606 Drummond St South, Ballarat (house still standing). Minnie married William Emlyn Thomas in 1898 & lived above the Ballarat Banking [Company], Lydiard St North, Ballarat for much of her married life (Bank no longer standing). The quilt was exhibited in Stawell, Vic. in 1933 or 34, my parents were living there at the time."
"The quilt was used extensively during my childhood, mid 1930s - 1940s, particularly during childhood illnesses."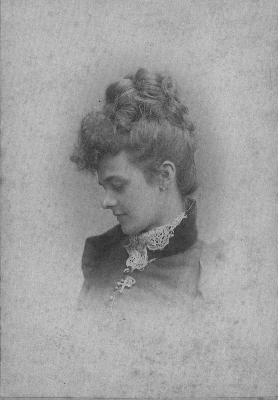 Related Quilts:

A frame quilt with a pattern using hexagons from crepe de chine and silk material. The centre frame consists of a blue rosette of hexagons surrounded by six rosettes or flowers all with black centres. These are surrounded by rows of hexagons and then a row of flowers and then more hexagon borders. The owner refers to the pattern as 'Grandma's Garden'. 2550 x 2550 mm

Double sided quilt. One side is different shapes including rectangles in various sizes in wools and men's suiting material. It is hand pieced. The pther side is mainly cottons in florals of different patterns joined in strips of varying width and machine and hand pieced. There is a 25mm binding. The padding is an old blanket.

Cotton quilt made in the USA. The pattern is 'Double Irish Chain'. It is machine pieced and hand quilted. The backing is calico and the padding is cotton,
2134 x 2134mm

This domestic Wagga is two layers of woollen army blankets with the top layer in rectangles joined in rows. The backing is hessian bags that originally contained meat meal.
11650 x 1130mm

Patchwork quilt has pieced blocks in the 'Ohio star' pattern in red print and white cotton, alternating with plain white blocks. Quilt has a 9cm frill in red and grey geometric print cotton, machine stitched around the edge. Quilt appears to have some hand quilting. No padding. Backing is white cotton.
2210 x 2060mm

Single bed quilt made up entirely of hexagons in 'Granny's Flower Garden' pattern. The rosettes are made up of 8 hexagons and a central one. Native flower prints, including wattle, on a white background. Plain hexagons in white, yellow and blue form a scalloped border. Hexagons are hand stitched and the 2 layers are quilted in running stitch. The backing is a pieced sheet.
2400 x 1500mm