Quilt No.178QHS - Queenscliffe Historical Society Inc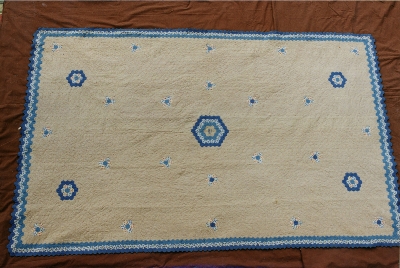 Description:
Patchwork quilt made of 1 inch hand paper pieced hexagonal patches (English technique), with plain and floral patterned blue fabrics in clusters at regular intervals throughout the taupe coloured patches. Centre of quilt has a cluster or 'flower' of 4 rings of patches, the centre group embroidered in blue satin stitch: 'MW 1938'. Border consists of 3 rows of medium, light and dark blue hexagons. No padding. Backing is of blue cotton sateen.
2185 x 1372mm
History:
Made and owned by Mrs M Wilkinson in 1938, the wife of Col. Wilkinson of the Engineers' Depot, Swan Island, Queenscliff (Australian Defence Force). Owned by Queenscliffe Historical Society Inc.
Related Quilts:

This hand pieced and hand quilted hexagon quilt is in a pattern often called 'Grandmother's Flower Garden'. The background is white and there are concentric rows of double rosettes each with a yellow centre. The colours start in the centre of the quilt with pink and then follow the rainbow. Paper templates were used. The padding is cotton (American) and the backing is cotton floral poplin.
2360 x 1730mm

Patchwork quilt made from brightly coloured printed cotton fabrics in hexagon patches hand sewn together in rosettes, and stitched by machine onto a border of green moire taffeta. No padding. Backing is green cotton satin curtain lining. There is a matching pillow sham.
2591 x 2540mm

Cotton quilt, machine sewn and hand quilted. Pattern similar to Double Irish Chain. The background is white and the small squares mainly patterned in pinks, blues, lilacs and greens. The backing is plain white cotton and the padding, which is lumpy, could be some type of cotton.
2057 x 1220mm

Quilt made with a rectangular centre panel of cotton fabric printed with red poppies and black flowers in a japanese style. The panel is surrounded by a wide black satin border. The backing is of black cotton, covering a previous backing of green floral cotton fabric. The padding is feathers.
1700 x 1370mm

Patchwork quilt of hexagon patches in a variety of colours and fabrics, including cottons, wool, lace, nylon. Edging is of yellow cotton. It is backed but there is no filling or padding.
2470 x 2100mm

Frame quilt with the centre frame featuring stars. These are English pieced and then appliqued on to the background using straight stitch on the machine. Borders are squares, rectangles and truangles. Mainly cottons. There is no padding. The backing is an old white bedspread similar to a Marcella.
1900 x 1930mm