Quilt No.178QHS - Queenscliffe Historical Society Inc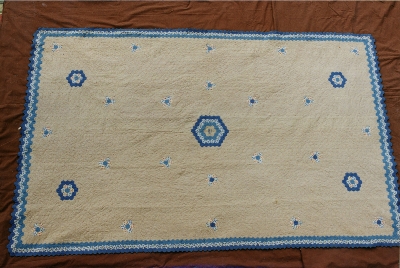 Description:
Patchwork quilt made of 1 inch hand paper pieced hexagonal patches (English technique), with plain and floral patterned blue fabrics in clusters at regular intervals throughout the taupe coloured patches. Centre of quilt has a cluster or 'flower' of 4 rings of patches, the centre group embroidered in blue satin stitch: 'MW 1938'. Border consists of 3 rows of medium, light and dark blue hexagons. No padding. Backing is of blue cotton sateen.
2185 x 1372mm
History:
Made and owned by Mrs M Wilkinson in 1938, the wife of Col. Wilkinson of the Engineers' Depot, Swan Island, Queenscliff (Australian Defence Force). Owned by Queenscliffe Historical Society Inc.
Related Quilts:

Crazy patchwork quilt in a variety of cotton materials. There is no padding. The backing is old flour bags.
2000 x 2000mm

Crazy quilt of velvet upholstery fabrics, and cigar ribbons with surface embroidery. Patches are outlined in embroidery stitches, and one patch has 'Dec 12 1886' on it. There is no padding, and the backing is cotton. 1720 x 1580 mm.

Grandmother's Flower Garden quilt. Hexagons are from cotton and polyester material mostly from 'Reverse Garbage' Melbourne. Hand pieced by Rita Fiddian, the owner. Hand quilted. The padding is wool and the backing cotton.
3049 x 2109mm

Silk and velvet frame quilt with centre patchwork block of squares and triangles with a top and bottom border of silk in Royal Stewart tartan. This rectangular centre frame is surrounded by plain and 'saw tooth' (triangles) borders. The outer border is dark grey silk embroidered in pastels in stem stitch in a meandering vine and leaf pattern. There is no padding or quilting. Backing originally of mustard wool material machine stitched along turned in edges. Dark red cotton is attached to original backing.
2015 x 1320mm

Quilt of over 6000 suffolk puffs (also called yo yos) in a mix of cotton and synthetic materials. The top is hand stitched on to a satin backing.
2413 x 1626mm

Machine pieced cot quilt made from squares of material including tweed, wool, blanket and pyjama material. The squares are joined in rows with colours randomly placed. There is a pink satin edging. The backing is part of a pale pink blanket.
1150 x 900mm