Quilt No.404MC - Margery Creek
Description:
Cotton quilt made in the USA. The pattern is called 'Turkey Tracks'. It has a cotton backing and a bottle green binding. The red patches have faded to pink. The quilt is hand pieced and hand quilted. Two names are written on tape sewn on the back viz: Cora Phelps and M.Hoover.
2135 x 1727mm
History:
The maker is unknown. It is possible the 2 names on the back of this quilt refer to makers. Margery Arnold Creek inherited the quilt from her Mother Margery Eleanor Arnold (1912-1996)
Story:
Nothing is known of the early history of the quilt. Margery E. Arnold made quilts and collected them from the 1970s. She chose quilts to buy for their fine workmanship and quilting designs.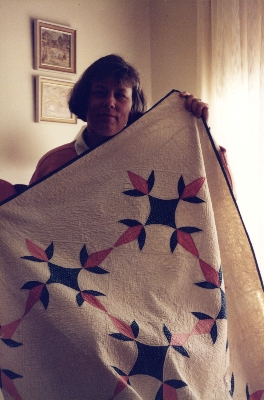 Related Quilts:

Small patchwork piece possibly made from salesman's samples. There is no opening in the back so it is not a cushion cover. There is no padding. The backing is green polished cotton. There is a 40mm fringe around the edge.
520 x 520mm

Double sided quilt. Side 1 has a central patch of small rectangles and borders of half square triangles. Seamed construction. Side 2 is crazy patch in wools and cottons on to a backing material. There is one round segmented circle in the centre. Machine pieced and quilted.
2050 x 1610mm

Patchwork quilt in the Tumbling Block pattern in light and dark silks in bright colours. On both sides and at the bottom is a wide border in Tumbling Blocks, the pattern vertical at the sides and forming a triangle centre bottom, with an edge on both sides of two black bands with pieced diamonds between. Made for a poster bed. Hand sewn.
1790 x 1750mm

The quilt is a repeat block in the Ohio Star pattern in turkey red and cream. Quilted in squares in the cream block and diagonal lines in the star block. The fabric border is disintegrating. The backing is cream calico and the padding is cotton, badly degraded. 1940 x 1760mm.

Red and white cross stitch quilt. Central white panel with red cross stitch embroidery featuring flowers and leaves. Red panels as borders with white embroidery, also flowers and leaves. Machine pieced. Hand quilted in an espalier pattern. There is a fine padding and the backing is homespun. 2200 x 1970mm

Patchwork quilt has a centre of a square within a square, with rows of scraps added around it. The scraps are mainly cotton shirting fabrics and are cut in different sizes and shapes. The two long sides have a narrow red edging folded from the back. The other two sides have been 'bagged'. Filling is an unusual weave thought to be wool. Backing is a pink, red and beige floral cotton.
2080 x 1650mm