Quilt No.404MC - Margery Creek
Description:
Cotton quilt made in the USA. The pattern is called 'Turkey Tracks'. It has a cotton backing and a bottle green binding. The red patches have faded to pink. The quilt is hand pieced and hand quilted. Two names are written on tape sewn on the back viz: Cora Phelps and M.Hoover.
2135 x 1727mm
History:
The maker is unknown. It is possible the 2 names on the back of this quilt refer to makers. Margery Arnold Creek inherited the quilt from her Mother Margery Eleanor Arnold (1912-1996)
Story:
Nothing is known of the early history of the quilt. Margery E. Arnold made quilts and collected them from the 1970s. She chose quilts to buy for their fine workmanship and quilting designs.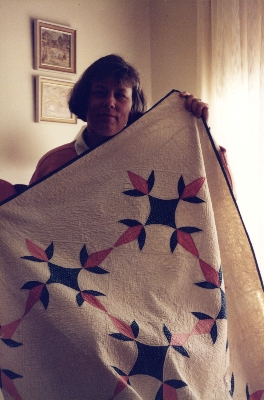 Related Quilts:

Patchwork quilt made from squares of wool, cotton, tweed, corduroy, tartan and stretch knit fabrics. Colours are mainly reds, greens, blues, pink and orange, mostly solid colours with some checks, stripes and florals. Padding is an open weave hessian material. Backing is a loosely woven cotton, pieced, buff coloured with a woven red and orange thread. Machine pieced, machine quilted in a large rectangle.
1601 x 915mm

Reversible quilt made of squares and rectangles of mostly wool suiting and some heavy cotton. The borders are of joined brocade. There is no padding.
1600 x 1220mm

Quilt with hexagons forming lozenge or honeycomb pattern. Predominantly greens and pinks in brocatelle (rayon brocade). All hand stitched. The backing is lime green rayon. The padding is probably dacron.
1800 x 1630mm

Crazy patchwork quilt made from silk, cotton and velvet in pastels and rich dark colours with a wide border of dark burgundy silk velvet. Decorative embroidery stitches including straight, herringbone and feather edge each piece. Most pieces have embroidered motifs including crown, flowers, horseshoe and Australian motifs of wattle and emu. Date '1891' worked in cross stitch on one piece. The padding is wool and the backing dark red satin and these are joined by diagonal machine stitching in yellow thread.
1750 x 1100mm

Quilt top. The centre piece is appliqued with cross strips and triangles with 'Chester 4 �.' printed on a centre blue strip. The last letters are difficult to read. The borders are triangles, rectangles and squares in cottons (including dimity) and some chenilles.
1860 x 1760mm

"A tied patchwork wagga quilt made from swatches of men's wool suiting fabrics in blue/grey and pink/brown tonings. Rectangular swatches have been cut in half diagonally, and the resulting right-angled triangles paired to form larger equilateral triangles which alternate dark with light across the field. The quilt has been machine and hand pieced, then machined in vertical stripes.
The centre field is bounded by two strip-pieced borders at top and bottom, and three down each side. These are sewn from rectangles, using light pink/brown tones for the inner border and darker colours for the outer borders. The quilt is padded and backed and the side seams are secured with black herringbone stitch. The three layers are tied together invisibly with lazy daisy stitches in black cotton from the back." [PHM] The padding is a wool blanket and the backing is two pieces of cream twill cotton.
2030 x 1440mm