Quilt No.345TBM - Tongarra Bicentennial Museum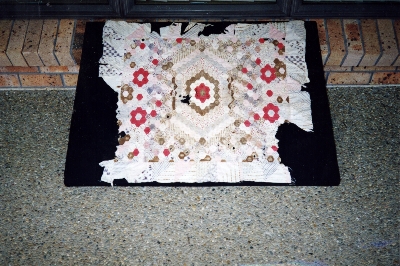 Description:
Patchwork cot quilt top made from cotton hexagon patches, featuring a centre rosette with 7 rows of patches around it forming an elongated shape, with rosettes and patches randomly placed on the sides. Quilt has a border of triangles pieced to form squares. Cotton prints with over 50 different patterns. Colours are faded, with red and brown (may be faded green) and mostly pastels. Hand sewn using whip stitch. No padding or backing.
990 x 825mm
History:
Made c.1830 in England by Sarah Thomas and used for her 10 children. The first was born in 1828, and the first three were born in England.. Owned by Sarah and then the Thomas Family. Now owned by the Tongarra Bicentennial Museum, NSW.
Related Quilts:
Dresden plate quilt with pointed pieces set around a white centre. Fabrics are checks, floral patterns and plains of the 1930s. The twenty blocks are sashed with plain mauve fabric which does not meet evenly in some places. The padding is two layers of cotton bedspreads. The backing is open weave rough quality cotton.
1860 x 1550mm.

Large double sided quilt of rectangles and squares of men's suitings, patterned and plain on both sides. The top has a central motif of a circle of three segmented rings radiating from a single hexagon. The outer ring is all tailors' samples and the inner rings are a variety of materials. There is some featherstitching in red. The quilt is sparsley machine quilted.

This quilt has been strip pieced with no regular pattern. It seems a large quilt has been made then folded in half. The materials used are woollen skirting pieces in a variety of colours. It could be used either way. There is no padding and it is very heavy.
2100 x 1950mm

Utility patchwork quilt made up of mainly squares of furnishing material machine pieced. It is backed with machine pieced patches of woollen jumpers, mainly machine not hand knitted. The back is possibly the top. There is no padding.
1950 x 1270mm

This utility quilt is mainly constructed from long strips of cotton seed sack material. It is machine pieced and quilted by hand in a diagonal pattern. There is a red border. The backing is cotton flannelette and the padding is cotton.
1601 x 1525mm

All cotton hexagon quilt using a wide variety of colours and patterns. The hexagons were hand stitched by Sylvia Schleibs in the same style she and her daughter, Norma Gilchrist, had previously made 3 hexagon quilts. There is a calico border and backing.
2000 x 1450mm