Quilt No.501EHS - Euroa and District Historical Society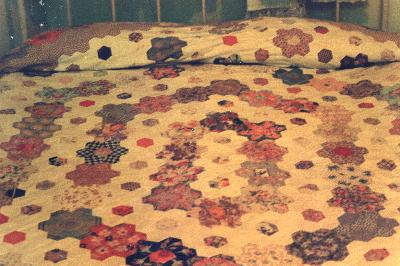 Description:
Handsewn cotton hexagons in a wide variety of patterns. Centre oval of hexagons with 2 outer rings. There is no padding and the backing is white cotton.
2490 x 2200mm
History:
This quilt was made by Mrs. S. Hart of Strathbogie, Victoria. It is displayed on a bed in the Euroa museum. [1999]
Related Quilts:

Patchwork quilt for a child made from suiting pieces from the Castlemaine Woollen Mills in Victoria. One side has dark rectangles in greys and navy, the other side uses pieces in light browns, cream and rust, with dark grey. The edging is also made from suiting. No padding Machine sewn.
1347 x 1271mm

Hexagons appliqued onto sheeting. 5 groups of 6 hexagons in centre of sheet and continuous row of hexagon rosettes around border.
2261mm x 1664mm

Quilt top of cottons including shirting materials constructed in kaleidoscope pattern with star border. Hand pieced over papers, some papers remain at edges. There is no padding and no backing.
2440 x 1720mm

Quilt in traditional design called 'Seven Sisters'. Seven stars, each of six diamonds are set against a cream background, surrounded by bright pink triangles. Hand pieced and hand quilted. Padding is cotton, and backing is cream calico. 2100 x 1850 mm.

Red and white cross stitch quilt. Central white panel with red cross stitch embroidery featuring flowers and leaves. Red panels as borders with white embroidery, also flowers and leaves. Machine pieced. Hand quilted in an espalier pattern. There is a fine padding and the backing is homespun. 2200 x 1970mm

Small rectangular bed cover, probably child's or even doll's, made from rectangles of cream linen stitched together with hand sewn french seams. The top surface is decorated with small squares and rectangles of coloured silk, velvet, wool and cotton attached approximately 25mm apart, with 3 stitches in centre of patch to attach to background. Bright pink wool patches stand out.
935 x 635mm