Quilt No.501EHS - Euroa and District Historical Society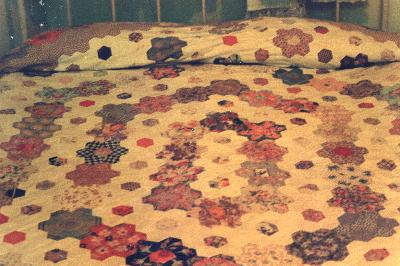 Description:
Handsewn cotton hexagons in a wide variety of patterns. Centre oval of hexagons with 2 outer rings. There is no padding and the backing is white cotton.
2490 x 2200mm
History:
This quilt was made by Mrs. S. Hart of Strathbogie, Victoria. It is displayed on a bed in the Euroa museum. [1999]
Related Quilts:

" Double bed size coverlet made of white cotton 'blue bags' fabric (white cotton squares used to hold a measured amount of blueing agent used to keep linens white during the laundering process). Patches are sewn together in the 'Suffold Puff' style - a circle of fabric is gathered up to make a puff. Patches are joined by a few stitches on four sides. Coverlet is edged with a deep crochet fringe, to a depth of approx. 18cm on all four sides���On lining is written in black ink: 'C.Bleagard Baby Ken'. " [NT NSW]
2570 x 2380mm

Quilt made from dressmaking materials in a design probably made up by the maker but resembling 'Courthouse Steps'. The outer border of each block is mitred. Originally it was reversible but during restoration the back was brought to the front, doubling the size of the quilt. The padding is old woollen materials. The backing is a new piece of floral material. It is now machine quilted.
1830 x 1220mm

Hexagon quilt, hand sewn, using a wide variety of patterned and plain cotton scraps left over from dressmaking. 6 hexagons are placed around a centre one. There is no padding. The backing is brown flannel turned over to the front with hexagons hand stitched to it.
1220 x 763mm

Handsewn cotton hexagons in a wide variety of patterns. Centre oval of hexagons with 2 outer rings. There is no padding and the backing is white cotton.
2490 x 2200mm

Quilt made of 26 x 13 rectangles of woollen men's suiting samples. Each rectangle is about 70 x 130 mm. Wide variety of patterns, mainly stripes, and colous. The padding is part of a worn cream blanket and joined pieces of woollen clothing. The backing is a well worn piece of brushed cotton. Machine made.
11900 x 1870 mm

Patchwork quilt for a child made from suiting pieces from the Castlemaine Woollen Mills in Victoria. One side has dark rectangles in greys and navy, the other side uses pieces in light browns, cream and rust, with dark grey. The edging is also made from suiting. No padding Machine sewn.
1347 x 1271mm