Quilt No.410MC - Margery Creek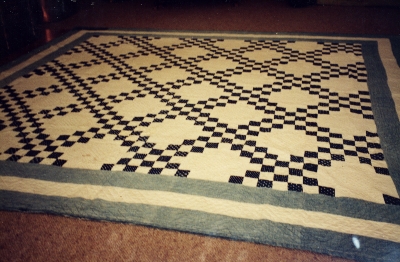 Description:
Cotton quilt made in the USA. The pattern is 'Double Irish Chain'. It is machine pieced and hand quilted. The backing is calico and the padding is cotton,
2134 x 2134mm
History:
The maker is unknown. Margery Arnold Creek inherited the quilt from her Mother Margery Eleanor Arnold (1912-1996) who purchased it from a quilt dealer in Virginia.
The quilt is not used.
Story:
Nothing is known of the early history of the quilt. Margery E. Arnold made quilts and collected them from the 1970s. This quilt was the last to be used by Margery Arnold when she was in a nursing home in Fredricksburg, Virginia USA.
Related Quilts:
Dresden plate quilt with pointed pieces set around a white centre. Fabrics are checks, floral patterns and plains of the 1930s. The twenty blocks are sashed with plain mauve fabric which does not meet evenly in some places. The padding is two layers of cotton bedspreads. The backing is open weave rough quality cotton.
1860 x 1550mm.

Patchwork quilt or table covering dark and light silks in bright colours, pieced from diamond shapes into stars with black patches between the stars. Plain and patterned silks are used for the stars. Border is made from a single row of Tumbling Blocks in plain silks with an edging on each side of truncated black diamonds on blue on the inside, orange on the outer edge. There is a star pieced of diamonds in each corner. Hand sewn.
1830 x 1800mm

Suffolk puff quilt with puffs in a variety of fabrics. Very little cotton. Fabrics are satin, polyester, organza, wool (now moth eaten), rayon and silk. There is no padding or backing. 2450 x 2100mm

Wool patches in large Tumbling Block pattern. Plain colours, blues, orange, gree, red. Seams are over embroidered with silk thread in herringbone stitch. Backing is 'Molleton', red with yellow pansy design.
2490 x 2236mm

Frame quilt in cottons with a centre motif of pieced 8 point star surrounded by borders, 2 from red/white material printed to represent Tumbling Block patchwork. The remaining borders are, one plain, one of pieced squares, one of pieced large triangles with squares in the corner. The outer border is plain. The padding is wool and the backing is cream cotton. It is elaborately quilted.
2400 x 2260mm

The centre of the quilt is a small blue 6 pointed star surrounded by a larger blue star. Blue stars also form a border to the quilt. The background material is a multicoloured small floral pattern on white cotton. The quilt is all hand worked over templates. The padding is cotton and the backing is polyester sheeting with a border of stars.
2650 x 2475 mm