Quilt No.682JM - Joan McGregor
Description:
One side of this quilt is large pieces of check and striped material surrounding a small patterned supper cloth with a border of scrap pieces. The other side is small, floral, check, spotted, striped and plain cotton pieces surrounding a tablecloth. It is machine sewn and is not quilted. The padding is an old woollen blanket.
1825 x 1625mm
History:
The quilt was made by Mrs. Mary McGregor possiblky at Bulla, Victoria pre 1951. It was then owned by Florence McGregor and now by Joan McGregor.
Story:
Mary McGregor was born and married in Scotland and came to Australia with her husband and 3 children on the ship 'Geelong' in 1914. Little is known of their early life in Australia but it is known they lived at 'Glenara' Bulla Vic where Mary's husband was a gatekeeper and part time gardener. Mary died in 1951.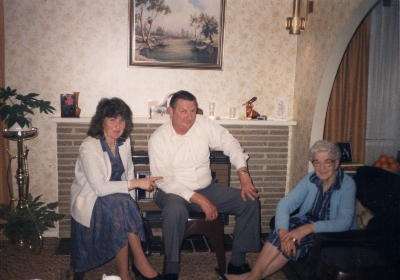 Related Quilts:

Quilt of machine pieced squares and rectangles using a wide variety of materials in plain colours and patterns. It is one of a pair. There is no padding and the backing is 90cm strips of calico.
2500 x 2130mm

A hand sewn quilt of more than 6,536 hexagon pieces in cottons, silks and polyester mix. There is a centre circular pattern of hexagons within a larger hexagon and small hexagons form larger hexagons in a random pattern on the quilt top. There is no padding and the backing is a plain fawn sheet with a floral edging in hexagons. 2880 x 2550 mm.

Cotton quilt top in patter, the owner calls 'Tumblers'. Approximately 590 pieces, with one exception, all different patterns and colours. 2181 x 1980

Domestic Wagga made from 3 bags joined (the bags feel lighter than the jute wheat or flour bags) and covered back and front with floral cotton featuring large roses in red and oranges. The cover is machined.
1750 x 840mm

Patchwork quilt or table covering dark and light silks in bright colours, pieced from diamond shapes into stars with black patches between the stars. Plain and patterned silks are used for the stars. Border is made from a single row of Tumbling Blocks in plain silks with an edging on each side of truncated black diamonds on blue on the inside, orange on the outer edge. There is a star pieced of diamonds in each corner. Hand sewn.
1830 x 1800mm

Hexagon quilt made from dressmaking scraps, nearly all woollen. The hexagons measure 150mm. It is hand stitched.
1170 x 1100mm