Quilt No.492VS - Virginia Solomon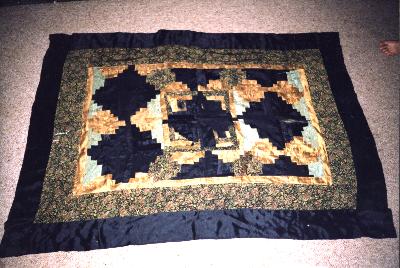 Description:
Log Cabin quilt featuring centre square and 3 outer borders. Evidence of later repairs and additions by machine and hand sewing. There is white paint on it. The log cabin pieces are sewn on to black netting. There is no padding and the backing is a centre piece of gold damask/sateen and green and black sateen borders.
1728 x 1321mm
History:
The origin of the quilt is unclear. Annette Wreg, a friend of the present owner, was given it by 2 sisters with whom she boarded. She thought Virginia Solomon was a better person to own it and gave it to her in 1996. Annette had it stored in a plastic bag under the sink. It is not used now and Virginia has it stored in a cotton bag at her home.
Story:
Sovereign Hill confirmed to the owner, Virginia Solomon, that the gold material was available in Ballarat at the time of the gold rushes.
Related Quilts:

Patchwork quilt made of hexagons in printed cottons, colours predominantly red, blue pink, brown and yellow. Handsewn. Attached to a white cotton backing. Cotton padding.
1829 x 1829mm

Patchwork quilt, log cabin with central patch plus 2 logs. Many different materials from 1950s and 1960s. Machine pieced. The padding is a woollen blanket and the backing is a flannelette sheet. The quilt is tied with yellow cotton at each corner.
2170 x 1880mm

Reused parts of hand knitted woollen jumpers patched together. Wide crocheted edge from wool unravelled from jumpers retrieved from the tip.
1905 x 1525mm

Double sided quilt. Side 1 has an off centre frame based on a hexagon and including triangles and squares in a concentric pattern. The borders are all small rectangles with a single strip of large rectangles at one end. Side 2 has a central patch of pieced shapes appliqued to the background. The borders are squares and rectangles many in striped shirting cotton. Side 1 has minimal quilting to the interlining but it does not go through to side 2. The padding is a thin sheet.
The circle (sometimes pieced hexagons) is common to other 'Craigmoor' quilts.

1450 x 1230mm

Quilt made from woollen dressmaking scraps, sewn to an army demob issue blanket, grey with blue stripes. Patches are feather stitched in red broder cotton thread. Quilt is edged with red cotton material zig zagged into place. Colours are pink, blue, brown, black and grey, in plain cloth, weaves and checks.
1462 x 966mm

Reversible cot quilt, hand pieced, in the log cabin pattern; the blocks measure 150mm square. The patches have been cut from plain and patterned dress, pyjama and men's shirt fabrics. Strong diagonals were created in the overall design through using light and dark colours, often a strong red, to divide the log cabin blocks in half diagonally. The back is made from rectangles of striped men's shirt fabrics in pastel blues, pinks and browns with a large 'flowe' in each corner, each pieced from six hexagon patches around a central seventh hexagon. There is no padding.
[PHM] 1720 x 1150mm