Quilt No.492VS - Virginia Solomon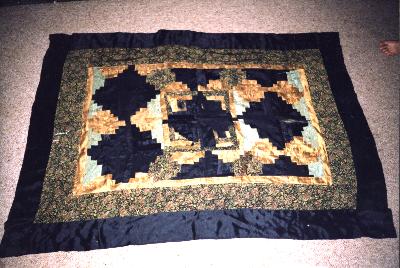 Description:
Log Cabin quilt featuring centre square and 3 outer borders. Evidence of later repairs and additions by machine and hand sewing. There is white paint on it. The log cabin pieces are sewn on to black netting. There is no padding and the backing is a centre piece of gold damask/sateen and green and black sateen borders.
1728 x 1321mm
History:
The origin of the quilt is unclear. Annette Wreg, a friend of the present owner, was given it by 2 sisters with whom she boarded. She thought Virginia Solomon was a better person to own it and gave it to her in 1996. Annette had it stored in a plastic bag under the sink. It is not used now and Virginia has it stored in a cotton bag at her home.
Story:
Sovereign Hill confirmed to the owner, Virginia Solomon, that the gold material was available in Ballarat at the time of the gold rushes.
Related Quilts:

Pieced squares, each square with a cross and 4 small squares in red. Crosses are in rows alternating 2 shades of blue and 2 of brown. Cream background. Now unlined but remnant blanket like material in corners. Originally had a cotton frill. Quilt was made from scraps of material used for making children's clothes.

This hand pieced and hand quilted hexagon quilt is in a pattern often called 'Grandmother's Flower Garden'. The background is white and there are concentric rows of double rosettes each with a yellow centre. The colours start in the centre of the quilt with pink and then follow the rainbow. Paper templates were used. The padding is cotton (American) and the backing is cotton floral poplin.
2360 x 1730mm

Patchwork quilt made from cotton fabrics in stripes, small prints, and plains. Centre block is pieced red and white triangles within a blue and white striped frame, with a row above and below of triangles in a flying geese pattern. Two rows of triangles in the flying geese pattern are on either side the full length of the quilt. Quilt is bordered with red cotton. Colours are red, white, pink, blue and yellow. Padding is probably a woollen blanket, the backing is linen. Closely quilted all over.
2180 x 1930mm

Folded log cabin, foundation pieced. Machine constructed. Materials are cotton, wool, rayon, flannelette, silk and twill. There is no padding and the backing is cretonne. 2700 x 2100 mm

Patchwork quilt made of hexagons in silks, satins and brocades. Colours are soft, mainly creams and pastels, with some deep pink, yellow, dark grey and bright blue. Quilt is bordered with a wide band of light navy moire or faille. Padded, possibly with a blanket. Backed with cotton twill.
2420 x 1900mm

Crazy patchwork quilt made from pieces of silk, velvet, silk ribbon and brocade in a variety of patterns and plains, in a range of colours. All patches are edged with embroidery, in blanket, feather, herringbone and other stitch variations. Many patches are embroidered with flowers, butterflies, leaves and initials of family members, and there is some beading. 1901 is embroidered in one corner. Quilt has a wide border of gold velvet. Patches are stitched to a base fabric. Backing is dark green sateen.
1470 x 1060mm