Quilt No.492VS - Virginia Solomon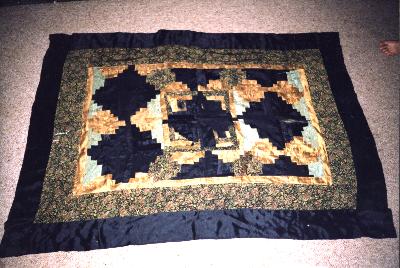 Description:
Log Cabin quilt featuring centre square and 3 outer borders. Evidence of later repairs and additions by machine and hand sewing. There is white paint on it. The log cabin pieces are sewn on to black netting. There is no padding and the backing is a centre piece of gold damask/sateen and green and black sateen borders.
1728 x 1321mm
History:
The origin of the quilt is unclear. Annette Wreg, a friend of the present owner, was given it by 2 sisters with whom she boarded. She thought Virginia Solomon was a better person to own it and gave it to her in 1996. Annette had it stored in a plastic bag under the sink. It is not used now and Virginia has it stored in a cotton bag at her home.
Story:
Sovereign Hill confirmed to the owner, Virginia Solomon, that the gold material was available in Ballarat at the time of the gold rushes.
Related Quilts:

Hand stitched quilt of suiting materials. Centre rectangle also suiting materials but arranged with a smaller scale, is edged with a cord of red fabric covering string. The outer red border has been renewed by the owner and closely matches the original. The backing is ticking. There is no padding.
2390 x 2110mm

Cotton quilt in 'Pyramid Charm' pattern. Made in the USA and thought to have come from Louisiana. Hand pieced and hand quilted with the quilting following the triangular shapes. The quilting is quite coarse. The backing is black printed material and there is cotton padding.
1931 x 1855mm

Crazy patchwork quilt of pieces of plain and patterned silks in bright and pastel colours, each patch edged and decorated with a variety of embroidery stitches, including star, spider, french knot and feather and herringbone variations. 2 patches of early aniline dyed blue silk. Motifs of tennis racquet, horse shoes, fan and some embroidered flowers. The patches are stitched to coarse linen. There is a wide border of red plush velvet turned to the underside. There is no padding. The backing is red polished cotton.
1550 x 1435mm

Cotton quilt of plain and patterned hexagons, 6 joined to make a flower. The flowers are arranged in rows with single motifs filling the spaces. Hand sewn. The backing is heavy red cotton material. There is no padding.
2490 x 1803mm

Large double sided quilt of rectangles and squares of men's suitings, patterned and plain on both sides. The top has a central motif of a circle of three segmented rings radiating from a single hexagon. The outer ring is all tailors' samples and the inner rings are a variety of materials. There is some featherstitching in red. The quilt is sparsley machine quilted.

Utility patchwork quilt made up of mainly squares of furnishing material machine pieced. It is backed with machine pieced patches of woollen jumpers, mainly machine not hand knitted. The back is possibly the top. There is no padding.
1950 x 1270mm