Quilt No.751PHM - Powerhouse Museum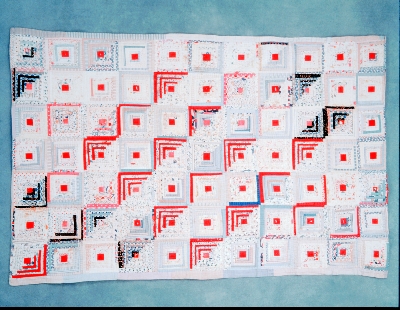 Description:
Reversible cot quilt, hand pieced, in the log cabin pattern; the blocks measure 150mm square. The patches have been cut from plain and patterned dress, pyjama and men's shirt fabrics. Strong diagonals were created in the overall design through using light and dark colours, often a strong red, to divide the log cabin blocks in half diagonally. The back is made from rectangles of striped men's shirt fabrics in pastel blues, pinks and browns with a large 'flowe' in each corner, each pieced from six hexagon patches around a central seventh hexagon. There is no padding.
[PHM] 1720 x 1150mm
History:
The maker was Mrs. Lawrence. It was made in NSW about 1910. Bert Lawrence, Mrs Lawrence's son gave the quilt to the Powerhouse Museum, Sydney in 1973. The quilt is used for research and exhibition purposes only.
Story:
"The quilt was brought to the museum in about 1973 by Mrs. Bert Lawrence, as her husband was not well. According to her, Bert remembered being sent to the tailor's shop as a child of five or six to buy samples of cotton fabric for his mother's patchwork. His father did contract work, fencing etc, around NSW and Queensland."
[Powerhouse Museum]
Related Quilts:

Utilitarian quilt made from large pieces of wool, flannel and cotton. Machine construction and the padding is wool.
1570 x 152Omm

Quilt in traditional design called 'Seven Sisters'. Seven stars, each of six diamonds are set against a cream background, surrounded by bright pink triangles. Hand pieced and hand quilted. Padding is cotton, and backing is cream calico. 2100 x 1850 mm.

Hand sewn hexagons over paper templates in a pattern known as 'Grandmother's Flower Garden'. Materials are printed dress cottons, patterned and plain, mainly in pinks, blues and browns. The border and backing is grey linen and is machine stitched on. There is no padding. 2060 x 1579 mm.

Patchwork quilt made from cotton hexagon patches in the 'grandmother's Flower Garden' pattern, in bright prints and plains, with cream 'paths' made from dress material. Padding is flannel sheeting, and backing is the same cream material as the 'paths'. The centre of the 'flower' patches are autographed with friends' names and dates, as are some 'petals' and cream patches, in black ink.
1550 x 1400mm

This is one of two single bed quilts in a pattern the owner calls 'Martha Washington's Flower Garden'. Flowers are in six hexagons in a variety of prints with a plain coloured centre. The background is cream, and the backing is calico. 2500 x 1800 mm.

Quilt of machine pieced squares and rectangles using a wide variety of materials in plain colours and patterns. It is one of a pair. There is no padding and the backing is 90cm strips of calico.
2500 x 2130mm