Quilt No.751PHM - Powerhouse Museum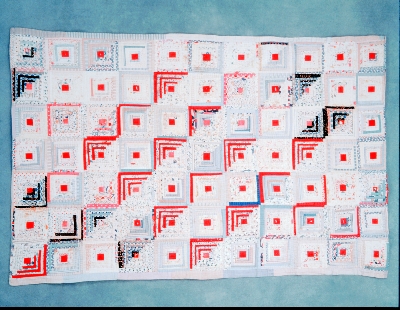 Description:
Reversible cot quilt, hand pieced, in the log cabin pattern; the blocks measure 150mm square. The patches have been cut from plain and patterned dress, pyjama and men's shirt fabrics. Strong diagonals were created in the overall design through using light and dark colours, often a strong red, to divide the log cabin blocks in half diagonally. The back is made from rectangles of striped men's shirt fabrics in pastel blues, pinks and browns with a large 'flowe' in each corner, each pieced from six hexagon patches around a central seventh hexagon. There is no padding.
[PHM] 1720 x 1150mm
History:
The maker was Mrs. Lawrence. It was made in NSW about 1910. Bert Lawrence, Mrs Lawrence's son gave the quilt to the Powerhouse Museum, Sydney in 1973. The quilt is used for research and exhibition purposes only.
Story:
"The quilt was brought to the museum in about 1973 by Mrs. Bert Lawrence, as her husband was not well. According to her, Bert remembered being sent to the tailor's shop as a child of five or six to buy samples of cotton fabric for his mother's patchwork. His father did contract work, fencing etc, around NSW and Queensland."
[Powerhouse Museum]
Related Quilts:

Hexagon rosettes of printed and plain cotton in a flower pattern. Incomplete, top layer only.
2439 x 1981mm

Hexagon quilt made from dressmaking scraps from one neice. The quilt top only is complete and a few papers are still attached.
2250 x 2000mm

Repeat block quilt top based on hexagons, each 350 mm diameter. Six hexagons and a centre one make a 'flower' and these are set in rows against a plain calico background. Patterned cotton fabrics are used for the hexagons, small prints, fine stripes and tiny flowers. As it is a quilt top only, there is no lining or padding. 2100 x 1800 mm

Patchwork quilt of cotton hexagons in a random mix of colours and prints, the predominant colours being blue, red, green, light yellow and pastels. Patches hand sewn. There is no padding and the backing is a grey wool blanket. The top is machine stitched around the edge to the blanket.
1645 x 1060mm

Tumbling Block quilt made from pure silk ribbons, patterned and plain. The quilt edge follows the block shapes. The backing is polished cotton printed with flowers.
2743 x 2439mm

" Reversible patchwork quilt of woollen suiting/upholstery fabrics in khaki, greys, blues and browns. Both sides have different designs. The front of the quilt has 13 rows of 12 vertical rectangles flanked on either side by a column of 22 horizontal rectangles. The reverse has a more interesting and complex design of small and very large rectangles, squares and triangles; with khaki contrasting with the duller greys and blues. The patchwork layers are joined at the edges with machine stitching and the quilt is machine quilted along 3 horizontal lines following joins in the patchwork; therefore not being totally straight. These lines are more noticeable on the reverse. The reverse face has been on display at the NGA." [NGA] There is a cotton blanket used as padding. 2054 x 1451mm