Axel Stenross Museum
Maritime museum - workplace of Finnish sailor who built wooden fishing boats and dinghies in the old traditional way - large collection of sailing ship (Wild Jammer) Photo's - Fishing Photo's old wooden boats (one 100 years old) - General maritime artefacts and yachting history.
Address:
97 Lincoln Highway, Port Lincoln, SA
Hours:
1pm-5pm Tue, Thu, weekends and public holidays
Admission:
Adults $2.50, concessions $2, students $1
Facilities:
Guided tours, shop, library, toilets
Collection:
2,700 items, including approximately 200 photographs 100 year old Ketch, Ex WW2 Army Tow (Tug) Boat.
Items
Sailing Ship Model
S V Pamir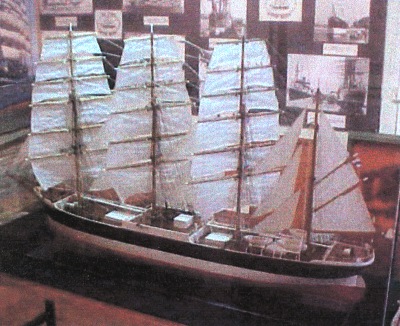 Description:
A 1696 model of sailing ship 'Pamir' which was in the bagged grain trade from South Australian Gulf Ports to Europe. One of the last two ships to load grain in South Australia 1949, was lost in a Hurricane in the South Atlantic in 1956 with loss of 80 lives.
South Australia, Europe, South Atlantic
Ketch
Trading Ketch, 56 foot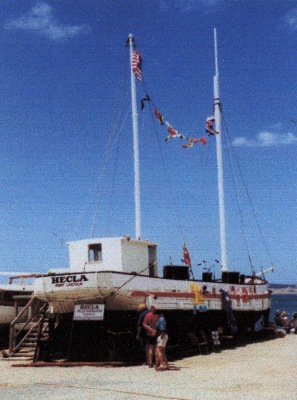 Creator:
Thomas Beauchamp, Port Adelaide 1903
Description:
Hecla built at Birkenhead, South Australia for General Trading. Shallow Draught with centre board which could be raised to use shallow water. Often beached when no jetty available. Originally no engine, one fitted in later years, last used for island trading, taken from water in 1980.
Birkenhead, South Australia
Wooden Fire Bucket
Fire Bucket from SV Glen Park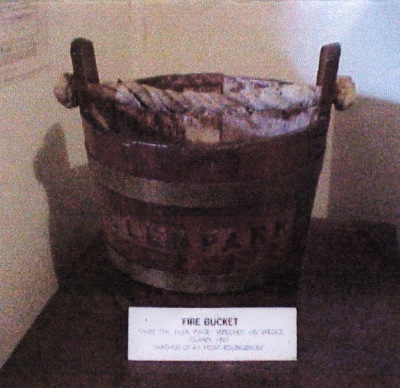 Description:
Fire Bucket from 'Glenpark' which was wrecked on wedge island in Spencer Gulf, South Australia, 1901. Made of 14 Vertical panels of wood. Held together by three bronze bands - Rope handle covered with cotton.
Glenpark, Spencer Gulf, South Australia
Couch
Couch from 'HMS Buffalo'
Creator:
Brown of Lane Street, London
Description:
Made for Walker-Owen Family due to pregnancy and Potential birth on the 'HMS Buffalo'. During voyage to South Australia - Owen Family were Axel Stenross's wife Norma's forbears. Has Slide Tryndle making it double for night use. 3 Drawers.
Coat
Sugarbag coat
Creator:
Frank Laakso, sailor and boatbuilder, Port Lincoln
Description:
Hand made by Frank Laakso out of Hessian sugar bag - original brand on inside colonial sugar refining co. 70 LBS. Adelaide - Has lining on inside of collar. Buttons and Button holes, no pockets.
Port Lincoln, South Australia