Ballarat Fine Art Gallery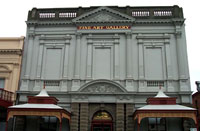 Built in 1884, the Ballarat Fine Art Gallery is Australia's oldest and largest regional gallery and Australia's 5th largest collection. Its collection spans early colonial through to contemporary art, with important works-on-paper collections and collections of decorative arts, costume and sculpture. Works from the Heidelberg School, and prints dating from Captain Cook's voyages to the present day are included. The Gallery also houses the original Eureka Flag, an important gold fields collection and Lindsay Family works.
The Ballarat Fine Art Gallery has housed the Eureka Flag since November 1895. The flag is an important historical relic, symbolising Australia's only armed rebellion in 1854 on the Victorian goldfields that lasted just six days. The Eureka Flag is displayed in its own gallery alongside a changing display of related work including a large collection of watercolours by S.T. Gill.
The Gallery has an active public program of major exhibitions and community based exhibitions as well as weekly lunchtime talks organised by the Gallery Guides. Services and facilities include free guided tours, wheelchair access and a cafe. The Gallery's Education Officer provides a special support service for schools.
Address:
40 Lydiard Street North, Ballarat, VIC
Admission:
Adults $5.00, Students/Concession $2.50, Children (under 16) free.
Facilities:
Access for the disabled, toilets also for the disabled, baby change room, car and bus parking, refreshments, sales outlet, guided tours, research facilities, information brochure, room for hire, community involvement, special membership, magazine/newsletter, education, outreach, touring exhibitions
Collection:
Approximately 6000 works of which approximately 3500 include work-on-paper, smaller collections of decorative arts, textiles and costumes
Items
Oil on canvas
The Listeners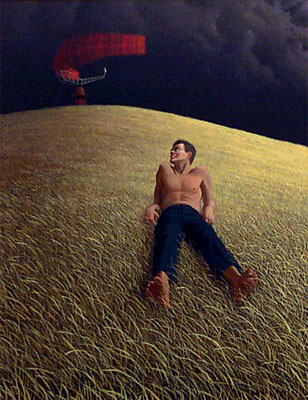 Description:
90.5 x 70 cm; signed l.r. "Jeffrey Smart 65"; gift of the William, Rene and Blair Ritchie Collection
The Eureka Flag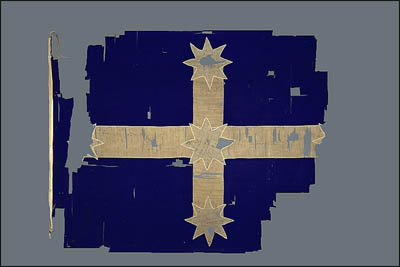 Description:
wool, cotton ; Actual size 260.0 x 324.0cm (irreg.) Original size 260.0 x 370.5cm (calculated)
Oil painting
Old Ballarat as it was in the Summer of 1853-54
Creator:
Eugene Von Guerard
Description:
75.0 cm x 138.6 cm; signed and dated l.r. red oil "Eugene Von Guerard Dusseld/1884"; gift of James Oddie on Eureka Day, 1885