Eureka Museum and Montrose Historic Cottage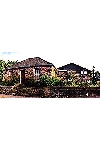 John Alexander, stonemason of Montrose Scotland, arrived in Ballarat, 1853, to build real history just 900 metres from the site of the 1854 Eureka Stockade, where the miners stood their ground against the harsh gold tax imposed by the government. In its middle class simple living style, Montrose captures our Celtic inheritance. Faithfully restored, Montrose is beautifully authentic, presenting an excellent portrayal of the personal trials and tribulations of our forebears. It now remains as possibly the finest restoration example of an authentic goldfields building, extant in Victoria. Today, it is; classified by the National Trust of (Vic) Australia, on the Australian Heritage Listing, listed 108 with Heritage Buildings Council of Australia, multi Tourism Award Winner. The cottage garden is another gem, with old roses, herbs, fuschias, cradling an enormous old apple tree which still produces big red juicy apples. An associated feature is The Eureka Museum.
Address:
111 Eureka Street, Ballarat, VIC
Hours:
9am-5pm daily, closed Christmas day.
Facilities:
wheelchair access, plenty of parking, toilets, cottage industry, gift/ souvenir shop, wholesale shopping, cottage gardens, refreshments, toilets, car & bus parking, special facilities education for school groups and coach groups (book in advance), evening tours "shadows of the past by candlelight" for groups, guided tours, friendly informative guides, special travelling exhibitions, calendar of events and festivals, community involvement, special membership, outreach, lone piper, harp or wandering minstrel, information brochure, five foreign language brochures, accessible picnic area, wheelchair access, touring exhibitions, house museum, history museum, social history museum. Allow at least one hour. Multi-tourism award winner
Collection:
Estimated up to 600 items, plus photographs. Social history. Eureka Rebellion. Women of Eureka. Ever changing exhibitions, including; weapons, tools, household pieces, irons, ironware, lighting and a concise collection of the Chinese on the Ballarat diggings.
Items
Tools
Carpenters Brace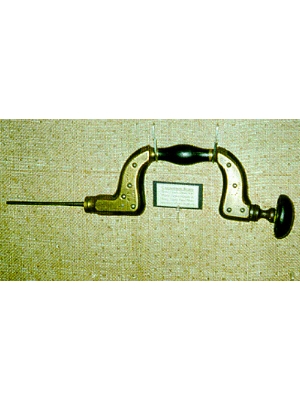 Description:
Brass Chuck, brass side plate, Ebony handle and body, Ebony head...brass mounted. Embossed with the British Coat of Arms.
Complements 'The Tool Chest' - a current temporary exhibition at Montrose Historic Cottage until late 1999.
Dress
Wedding Dress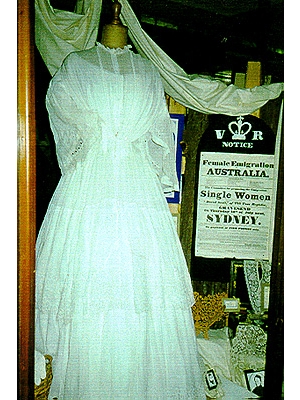 Description:
Donated by the Great Great Grand Daughter. Gown worn for wedding which took place in 1855. Made from the finest white muslin. Triple tier skirt, cut and button holed on the wide border with hand made Islet work, and made to fit over a crinoline. The top is worked, likewise, and in the style of a shawl wrap.
Chinese Exhibit
Chinese Water Pump
Description:
A water lift, known as the Dragons Backbone, used to lift water from the river to the fields on higher land. Originally built in the Warring states period (495-221 B.C.) in the Sichuan province. It was discovered on the Ballarat Goldfields (Little Bendigo), under a mass of brambles (built into the rafters of an old shed) and in near perfect condition. Also in this excellent display, Chinese female, adult shoes that measure a mere 4", a legacy from the practice of the foot binding era that continued for many centuries. The overall display gives a graphic insight into the early Chinese influence on the Ballarat diggings.
In Uncles Room on top of the three quarter bed and original patchwork quilt at Montrose Historic Cottage.
The Eureka Sword
Peter Lalor's original "Eureka" Sword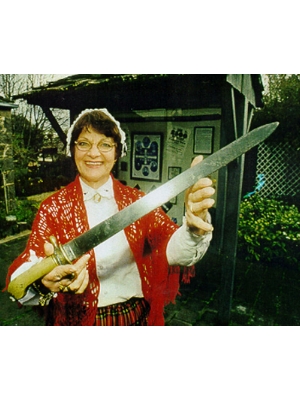 Description:
The Lalor (Eureka) Sword, on loan to the Eureka Museum by the Lalor family, who live in Ballarat today, along with his text books, original Medallions and letters.
Special Exhibition and Book
Women of Eureka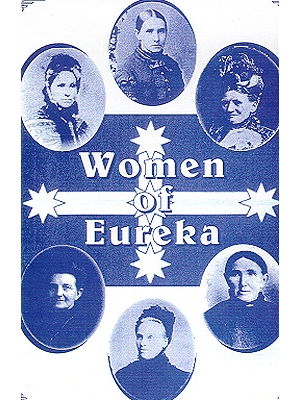 Creator:
Author and Research: Laurel Johnson
Description:
The Women of Eureka, is the major Exhibition in the Eureka Museum. These amazing stories, were handed down by word of mouth, from generation to generation on grandma's knee in front of the open fire.
The stories interweave around 24 Women of the Goldfields, to form a better picture of; how the families survived, how they felt about Eureka, their involvement in it and, what happened to them afterward.