Railway Station Museum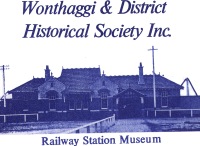 The Society's Museum is house in the former railway station which has been listed by Heritage Victoria. The Photographic and artefact collection related mainly to the state coal mine which operated from 1909 to 1968. Other displays relate to Wonthaggi and the various institutions which shared its history. EG co-operative store, Wonthaggi miners dispensary, union theatre, schools, sporting clubs, Wonthaggi and district hospital miners union and miners woman's auxiliary.
Address:
Murray Street, Wonthaggi, VIC
Hours:
11am-1pm Saturday or by appointment for groups
Facilities:
Toilets, car and bus parking, picnic area, sales outlet, research facilities - including newspapers - "Powlett express" 1909-1969 on microfilm and "Sentinel Times" 1970 to present in hard copy.
Collection:
1000 photo's (Wonthaggi and district 1909 to present), 3000 artefacts (mining tools, household artefacts, etc), 200 audio tapes relating to history of Wonthaggi and district. Newspapers "Powerlett Express" 1909 - 1969 on microfilm, "Wonthaggi Sentinel" 1909 - 1921 1946 - 49 Hard Copy, "Sentinel Times" 1970 to present Hard Copy.