Vietnam Veterans Museum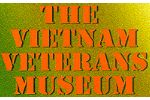 Only museum in Australia with the Vietnam War as the main focus. Situated in a main tourist area with easy access and parking. School bus tours and other groups cared for. BBQ meal arrangements provided on request.
Address:
57 Phillip Island Road, San Remo, VIC
Hours:
Mon - Thurs 10am-4pm, Fri - Sun 10am-5pm
Facilities:
Wheelchair access, shop, tea/coffee, library, guided tours on request, education programs, brochure, mobile museum display
Collection:
Items in the museum vary from 6 wheel drive trucks, to letters sent home by soldiers. All items have been donated by veterans and the museum is operated 7 days a week by Vietnam Veterans
Items
Cross Bow
Montagnard
Creator:
Unknown (Montagnard Village Soldier)
Description:
Wonderful handmade crossbow with bamboo arrows - typical weapon of the Montagnard soldier, who were the hill people of Vietnam
Hand made Machete and wooden scabbard, also made by a Montagnard soldier is also on display
Diorama
Cordon and Search
Description:
Displays Australian troops searching a Vietnamese village
This display includes side cut out showing tunnel system methods of concealment, Australian equipment used.
Letters
Creator:
Soldiers of 1st Battalion, Royal Australian Regiment
Description:
These letters were written in 1965/66 in response to letters sent from children at Gowrie Park Primary School, in the North West Highlands of Tasmania. The children wrote letters to the soldiers serving in South Vietnam and these letters which the school put into an album were the soldiers replies.
The album was presented to John Methven, the National President of the VVAA at the time, during a visit to Tasmania in 1997
M16 Anti Personnel Mine
Jumping Jack Mine
Description:
A cut through section shows the workings of the deadly mine that claimed so many casualties
The mine was detonated by standing on the three small feelers on the top. You can also see the detonator that set off the mine as it was being lifted.
Sandals
Ho Chi Min Sandals
Description:
Traditional sandals worn by Viet Cong soldiers - made out of rubber tyres.
Sandals were taken from a Viet Cong soldier who had been killed in conflict