Swan Hill Regional Art Gallery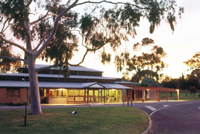 Swan Hill Regional Art Gallery is situated near the Little Murray or Marraboor River adjacent to the Swan Hill Pioneer Settlement Museum. The Gallery reflects the unique nature of the region and presents a dynamic changing exhibition program.
Swan Hill Regional Art Gallery started life on the upper deck of a paddle-steamer called "The Gem" before moving to a new purpose-built art gallery in 1987. The Gallery boasts one of the most impressive collections of naïve art in Australia. Naïve artists are frequently self-taught and their work has a freshness and raw appeal that makes it an accessible and popular style.
You will also see other works from the gallery's permanent collection including examples from the works on paper collection as well as images inspired by and connected to the Swan Hill region.
With touring exhibitions and a lively program of educational activities and concerts, Swan Hill Regional Art gallery offers something for everyone.
Address:
Horseshoe Bend, Swan Hill, VIC
Hours:
Tuesday - Friday 10:00am - 5:00pm; Saturday - Sunday 11:00am - 5:00pm.
Facilities:
Picnic Area, Wheelchair Access, Guided Tours, Brochure Information, Volunteer Program, Holiday/Public Programs, Education Programs, Shop, Venue Hire
Collection:
Swan Hill Regional Art Gallery's collection numbers nearly three hundred works of art. The gallery collects in three areas: Naïve art; Australian prints and drawings; works of art related to and reflecting the Swan hill region.