19th Century Portable Iron Houses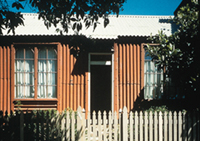 The three houses at Coventry Street are among the few 19th Century prefabricated iron buildings remaining in the world. Students of building, architecture, industrial archaeology as well as social history will find them of interest.
An audio visual tour provides a comrehensive account of these buildings in the history of white settlement in Australia and during the Gold Rush years in Victoria particularly.
Address:
399 Coventry Street, South Melbourne, VIC
Hours:
First Sunday of each month, 1:00pm - 4:00pm, or weekday groups by appointment only.
Admission:
National Trust members free, charges apply to non-members.