Barwon Grange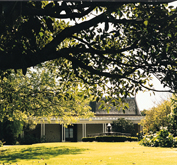 Barwon Grange is an elegant intact brick home dating from Geelong's earliest residential settlement. It was built in 1855 and reflects the asperations of middle class businessman Jonathan Porter O'Brien and his family who had emigrated from Liverpool, U.K. The architecture is picturesque Gothic style with steep gables, unusual decorative timber bargeboards and verandah parapet.
Address:
Fernleigh Street, Newtown, VIC
Hours:
September to May: Wednesday, Saturday and Sunday 11.00am - 4.30pm and public holidays (Appointments can be made at all other times) Closed Good Friday, Christmas Day and June to August.
Admission:
National Trust members free, charges apply to non-members.
Facilities:
Access for less mobile visitors, guided tours, self-guided garden walk, venue hire for functions, education services, picnic areas.
Collection:
The interior contains a fine collection of early Victorian furniture and fittings faithfully accumulated according to an inventory compiled when the house was auctioned in 1856. The garden that complements the house with Victorian fountain and lawns sloping down to the Barwon River is planted with species from a mid-19th century plant catalogue.